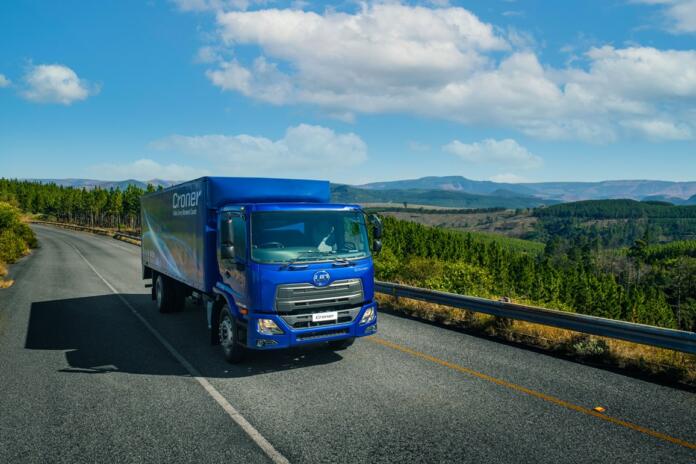 THE launch of the Quester and Croner Euro 5 truck technologies in a country that still operates with a Euro 2 fuel standard is a bold move by UD Trucks. This original equipment manufacturer (OEM) wants to ensure that it is able to start driving the uptake of the technology as early as possible to position itself as a leader in the field as South Africa gradually transitions into a "green" economy.
"The uptake of the technology will start with large fleet operators that have already expressed a keen interest in the technology because they want to be major drivers of sustainable transport. This is over-and-above the role that the technology will play in helping them to reduce fuel consumption and prolong service intervals. Over time, we believe that smaller third-party logistics providers will also follow their example," Jacques Michel, Senior Vice President of International Sales of UD Trucks, says.
The fuel efficiency of these trucks, alone, is a strong enough selling point. One of the OEM's clients spends about R1-billion a year on diesel and is very cautious about the future. The company has shown a keen interest in the Euro 5 truck technology because it promises a 4% to 5% saving in fuel. Add to this a marked reduction in total cost of ownership and downtime. This is in addition to the wealth of data that is generated by these vehicles to ensure their optimal functioning. 
Trucks were carefully selected for South Africa. They include a Croner 250 HP freight carrier in the 16t heavy commercial vehicle (HCV) segment. This is UD Trucks South Africa's largest market segment. It is closely followed by the 15,5 t HCV segment which will be serviced by a 240 HP Croner freight carrier. These models are complemented by two more Croner models, one being a 4×2 truck tractor and another with a 6×2 axle configuration freight carrier, for distribution and regional haul, a growing market for the OEM.
Meanwhile, UD Trucks has introduced Quester models to service the top-end long and regional haulage markets. They include a freight carrier and two truck tractors for onerous applications. This is in addition to a 460 HP truck tractor configuration that will enable the company to grow its market share in the top-end truck tractor market for long-haul applications. 
Certainly, another major market for the Euro 5 technology is local municipalities. They are increasingly exploring cleaner truck technologies for waste-management services. The City of Cape Town, in particular, is at the forefront of this drive, and Rory Schulz, Sales Director of UD Trucks South Africa, also commends the Western Cape Department of Transport and Public Works for the stellar role that it is playing in driving the uptake of clean truck technologies in the province. 
Selective Catalytic Reduction (SCR) technology was deployed to meet Euro 5 standards. Launched in 2004 as an industry first by Nissan Diesel/UD Trucks, the afterburn technology entails forcing a chemical process within the exhaust system after the diesel fuel has been burnt. This is achieved by adding a urea, known as AdBlue commercially, in a specific ratio to the fuel.
One of the biggest advantages of this technology is that it enables the OEM to map and select an engine that provides the best possible fuel consumption for a specific application. Due to high-injection pressures, very efficient fuel consumption is achieved without having to limit the performance of the engine to comply with the latest international emissions regulations. 
Meanwhile, the fully automatic transmission on the Croner trucks has undergone slight upgrades to operate optimally with the new Euro 5 engine technology.
The Easy Safe Controlled Transmission (ESCOT) on the Quester trucks have also been upgraded to ensure excellent fuel combustion in all local conditions.
Certainly, with South Africa increasingly relying on imported fuel, Filip Van den Heede, MD of UD Trucks Southern Africa, believes that the launch of the technology is timely. "The country currently imports about 60% of all its fuel and this is expected to increase as more local refineries close. Meanwhile, all countries across our borders import fuel of the required 50ppm or 10ppm," Van den Heede concludes. 
Contact