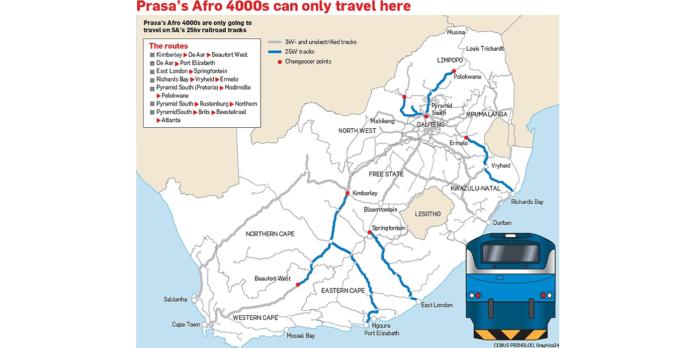 Rail agency Prasa's new Afro 4000 locomotives will not be allowed to travel on most of the main long-distance rail routes they were originally intended for.
For example, on the popular Shosholoza Meyl route between Johannesburg and Cape Town, Prasa will only be allowed to use the Afro 4000s on the 25kV-line between Kimberley in the Northern Cape and Beaufort West in the Karoo. The rest of the route is electrified with 3kV overhead wires, which are generally lower than the 25kV ones.
Prasa will also not be allowed to run the Afro 4000s on the Johannesburg-Durban route, while the locomotives will only be allowed to travel on about a third of the route between Gauteng and East London. Prasa had intended to use the new locomotives on the company's long-distance routes.
Main & Gaurdian reported that public protector, Thuli Madonsela, described Prasa as a "strategic and important organ of state" as she revealed a litany of findings against the company on Monday. Madonsela wants Prasa chief executive Lucky Montana to be held liable and Prasa to correct deficiencies in the supply chain management process and review some of its policies in that regard.
She wants the acting chief executive to ensure procurement processes and HR processes are followed and that national treasury considers commissioning a forensic investigation on all Prasa contracts or tenders valued above R10m issued between April 1 2012 and June 30 2015.
Madonsela also wants transport minister Dipou Peters to tighten the ropes and make sure consequences are felt. Peters and her department said they were still studying the report but noted that at face value there are several areas of grave concern that the board of Prasa needs to attend to urgently.
In her report – aptly dubbed "derailed" – Madonsela detailed how supply chain management policy was violated when a tender awarded to Siyangena Technologies, worth R1.95bn, to install high-speed passenger gates at the Doornfontein and Nasrec train stations was improperly extended.
News24 reported that Madonsela said this constituted maladministration and improper conduct, as was the case when Prasa improperly extended a tender worth R256m, which was awarded to Siemens, to install a communications system which was extended beyond Gauteng to the whole country.
In a finding against Montana – who was fired in July – Madonsela found that he acted in breach of the Constitution and Promotion of Administrative Justice Act when he terminated the contracts of seven cleaning companies in 2012. She also found that constituted maladministration, abuse of power and improper conduct.
Montana was off the hook when it came to a tender worth R3.7m awarded to security company Sidas Security without a tender process being followed which was actually awarded by Prasa's Chris Moloi.
"Prasa's failure to take action against the authorised official, who approved the submission for the appointment of Sidas Security, constitutes maladministration and improper conduct," her report reads.
The locomotives have a roof height of 4.264m while the maximum height for diesel locomotives may not exceed 3.965m, senior rail engineers with firsthand knowledge of the saga told Rapport. Prasa intended using the locomotives for its long distance Shosholoza Meyl passenger service. The locomotives were revealed to the media at an event in Cape Town in January, where Prasa and transport minister Dipuo Peters stated the locomotives would undergo three months' testing before entering operations in April.
Last week, a Prasa train bound for Cape Town derailed just before Kimberley leaving five people injured. About 11 coaches were affected due to construction work that was being done on the rail line. Apparently there was miscommunication between Transnet and the rail service.
---