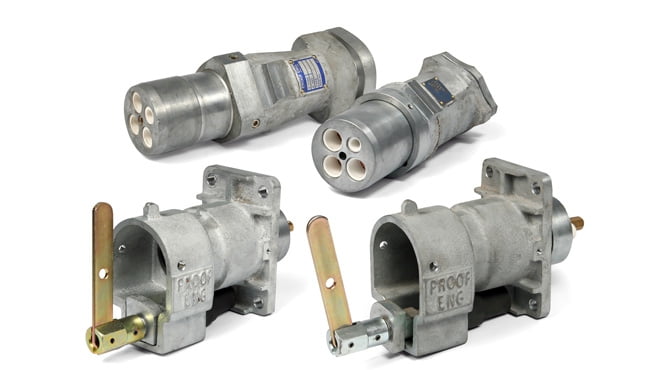 Proalloy couplers from specialist coupler, adaptor, plug and socket supplier, Proof Engineering, are 33% lighter than their brass counterparts and present a verylow theft risk. According to Proof Engineering Director Donovan Marks, the main problems experienced with couplers traditionally manufactured from brass, leaded gun metal or stainless steel is their extremely high weight-to-value ratio that increases the risk of theft and can result in unplanned downtime and subsequent production losses.
"Following a three-year research and development programme, we came up with a perfect solution for industry in the form of a coupler that is manufactured to specification from our patented ProAlloy material," states Marks.
Marks explains that this non-theft material is comprised of a zinc, copper and aluminium mix and therefore holds no resale value. 
"The fact that the mix is contaminated by the aluminium reduces the value from approximately R35/kg to R6/kg and thus cannot be sold for scrap. We further assist our customers by buying back the metal at R15/kg, effectively closing the loop."
As an environmentally responsible company, Proof recycles the metal through re-melting to ensure very little or no impact on the environment.
Marks also points out that the zinc product has undergone stringent corrosion tests conducted by Mintek against brass in mining water and results showed that there is nocorrosion affect.
A further benefit to end-users is the fact that the ProAlloy coupler is 33% lighter than its brass equivalent. Marks also notes that the ProAlloy coupler demonstrates material integrity, retains its machinability and remains completely malleable. "Due to the fact that it is a unique patented alloy, material movement can be controlled between manufacturer, supplier and end-user," he adds.
"The ProAlloy couplers have been tried and field-tested by a number of blue chip mining houses with remarkable success," continues Marks. He says this has led to the manufacture of ProAlloy plugs and sockets that provide end-users with the same benefits as the ProAlloy couplers. The material may also have potential applications in components other than electrical couplers, such as switches, housings and flameproof glands."
Plugs, sockets and couplers which facilitate the connection of electrical cables to mobile mining equipment are critical components; waiting to obtain and fit replacement components as a result of theft can cause costly delays. "Using our patented non-theft ProAlloy materials to manufacture these components will without any doubt contribute to keeping end-users' uptime to a maximum,"concludes Marks.
Proof Engineering, part of Powermite which is a Division of Hudaco, is a specialist supplier of components, equipment and systems to the mining, marine, industrial and general engineering sectors in Southern Africa for over 45 years.
Read more in the July edition of Cape Business News