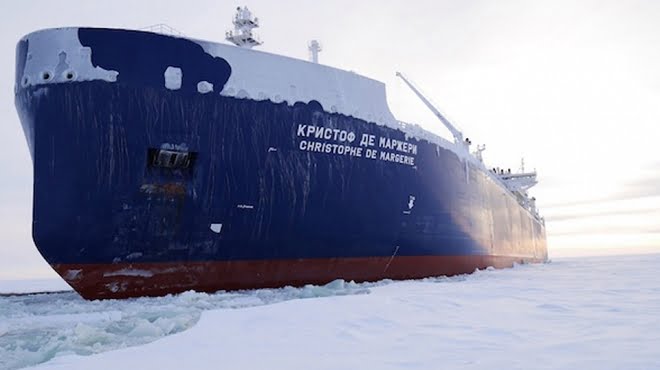 Russian President Vladimir Putin says the country is set to become the world's largest producer of LNG as the world's first ice-breaking LNG carrier calls at Sabetta port in Yamal.
The PAO Sovcomflot (SCF Group) vessel Christophe de Margerie successfully berthed at the gas terminal in Sabetta Port in the Russian Arctic on Thursday.
"If we continue working this way and at the same pace, which is even somewhat surprising for me, frankly speaking, then Russia will be, not just capable, but will undoubtedly become the world's largest producer of liquefied natural gas," President Putin said in an address via a video conference link.
"We have all grounds to believe so, to think so, and to deliver such a result."
The ceremony was attended by Maxim Sokolov, Russia's Minister of Transport, Alexey Texler, First deputy Minister of Energy, Li Fanzhun, Deputy Head State Energy Administration People's Republic of China, Leonid Mikhelson, chairman and ceo of Novatek, Patrick Pouyanné, chairman & ceo of Total, and Sergey Frank, president and ceo of SCF Group.
Setting out the potential of Yamal LNG Novatek's Mikhelson stated: "This region is the richest location in terms of its reserves. It is possible to produce more than 70m tonnes of LNG and create a hub with a more than a 15% share in the world market in terms of its cost here. The new infrastructure will help implement this goal in the shortest possible time."
President Putin added: "The arrival of this new tanker, designed for Arctic conditions, is a big event in Arctic development, as is the construction of the port of Sabetta, where the tanker docked today. The port was built entirely from scratch.
"I should like to draw your attention to the fact that in developing the Arctic's enormous wealth, our basic principle is not to cause any harm. We realise that this region's ecosystem is very sensitive to any human interference. But I know your work in detail and I know for certain that the port, the ships that will use it, the production methods used, and the transportation system all use the most advanced technology and meet the highest environmental standards."
The Christophe de Margerie is the first of a series of 15 Arc7 ice-class LNG carriers being built to service the Yamal LNG project.
The vessel can sail westwards on the Northern Sea Route and eastwards to Asia for six months from July to December.
During her maiden call at Sabetta Port, the vessel successfully carried out a trial passage through the purpose-built seaway canal, the most difficult part of the Ob Bay in terms of navigation.
---
Source
Sea Trade Maritime News