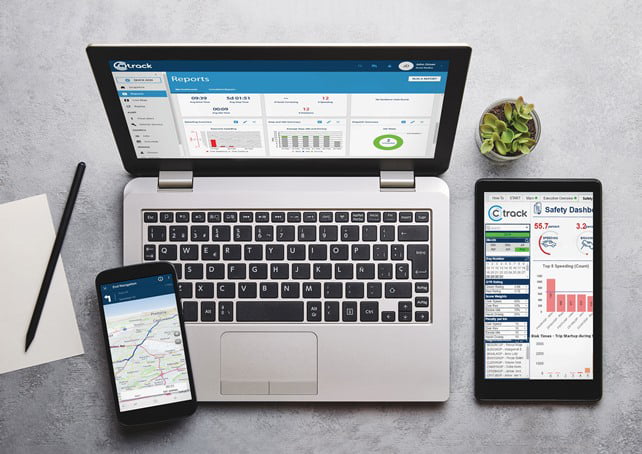 "DESPITE our 35 years of experience in managing vehicles and assets, we are always looking for new solutions that help our customers run their businesses as effectively as possible," says Hein Jordt, CEO of Ctrack SA.
Ctrack offers a variety of technologies for positive and accurate driver identification which include Dallas iButton keys, RF ID cards and, in the near future, via biometrics, making it easy to determine which driver was driving what vehicle, in what manner and when. A starter lockout can be installed to prevent the vehicle from starting without the correct authorisation via the driver identification system, completely eliminating any risk of unauthorised use.
Video footage from the in-cabin Iris Dashcam can confirm correct driver identification if need be. This windscreen-mounted camera solution includes ADAS and DSM fatigue functionality with a third wired camera for in-cab placement. Connectivity is via 4G, Wi-Fi or Bluetooth. Footage can be viewed via a desktop platform, web-based platform, Android or iOS mobile application or live streaming and includes GPS location and event setup.
Driving style and behaviour can also have a significant impact on your business. Drivers who breach road regulations risk their own safety, the safety of others but are also the cause of additional costs for the business such as fuel, maintenance, insurance and even traffic fines if these are not allocated to the individual driver correctly.
Ctrack's driver management tools provide multiple solutions to ensuring that vehicles run effectively, efficiently and safely. These tools also allow for the management of operators, access, and behaviour across multiple vehicles and assets.
As an example, Ctrack can monitor speed in a variety of ways, including map speed, a predetermined speed limit on a telemetry device or via a physical speed limiter on the vehicle. If needed, Ctrack SMILE script technology can also adjust a vehicle's top speed capabilities based on predetermined Geo zones.
The Ctrack Driver Centric Mobi application allows driver scores to be logged and data used to improve driving performance. The application also features a fully-fledged vehicle pre-inspection form that is completed and managed digitally through the Ctrack Driver Mobi web app.
The driver display unit provides the driver with job-specific information such as job dispatch, navigation and messaging. The functionality of this system in a safe and controlled manner means that drivers are always on the most economical route, which saves time and avoids clocking up unnecessary mileage, resulting in increased productivity.
Ctrack's On the Road solution is high quality, reliable, fleet specific software that can be utilised with any Android-based device. It gives the driver all the tools they need to do their daily job while allowing fleet managers to ensure that their assets are being used most effectively. The On the Road product combines navigation and fleet tools with an operating system that integrates with all the Ctrack software platforms for easy data extraction.
As fuel accounts for a large portion of a fleet's total operating costs, consumption needs to be carefully controlled. The Ctrack Fuel Solution gives you eyes in the tank, live monitoring of fuel consumption and levels, and real-time fuel analytics. This reduces fuel loss risk.
Ctrack's rich fleet analytics and smart interpretation of data provide the information needed for critical decision making, from cost savings to future investments.
"Saving costs is a natural by-product of Ctrack's wide variety of tracking and fleet management solutions that allows fleet managers to have eyes on all types of moveable assets through bespoke software solutions and ensures that they are used in the safest, most effective way possible," concluded Jordt.
Contact