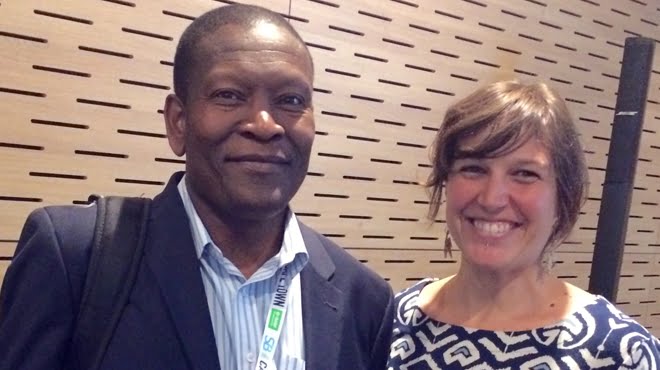 Sustainable and ethical certification is paying dividends says Fairtrade and certified producers and retailers who promote and sell products with the Fairtrade Certification Mark.
Speaking at the Sustainable Brands Conference held in Cape Town this week, Arianna Baldo, executive director of Fairtrade SA, said as consumers become more discerning, all aspects of systems in the supply chain need to be accountable.
"Fairtrade exists because consumers want to purchase products that solve the world's problems, not add on to them."
Through the independent auditing company FLOCERT, Fairtrade certifies agricultural supply chains worldwide, and is a leader in the coffee, cocoa and sugar commodity sectors.
"FLOCERT audits up to the retail shelf and we use global standards, so if you are producing Chilean wine or South African wine, we use the same social and environmental criteria," explained Bronwyn Page-Shipp, director of FLOCERT SA.
The company also provides multi-certification.
"In order to provide the best value for producers, we can also audit for other certifications during the same visit"
Yashvir Maharaj, of B2B Insights Survey, whose company recently completed a business study for Fairtrade.
"The top sustainability trend recognised by South African businesses was sustainable certifications, followed by renewable energy, water wastage and recycling. There is growing consumer pressure in the higher LSM group who want to know where their products come from and how they are produced."
According to Goodwell Dingaan, director of agro-processing at DAEDT Western Cape, his department is using policy frameworks that include consumer and human rights policies in response to mainly international markets that want proof of sustainability, quality assurance and ethics.
Jonathan Robinson, director of Bean There Coffee and Marius Louw, CEO of Du Toitskloof Wines, both of whom are Fairtrade certified, corroborate the impact that certification has had on their brands.
"When you do the right thing it comes at a price, but there is a growing trend amongst young people who actively make ethical choices about the products they support," commented Robinson.
"We also have to consider every aspect of certification as we have 22 members, so we need to ensure that a high standard of ethical and sustainable farming activities is maintained in the entire Du Toitskloof value chain," explained Louw.
Pick 'n Pay supports Fairtrade products and Andre Nel remarked that there is a societal shift in South Africa towards community.
"Pick 'n Pay has seen a shift from products being business driven to community driven, and we need to focus our efforts through social media awareness on why ethical and sustainable certification is important."
Fairtrade is in agreement that marketing is necessary to grow awareness of Fairtrade in South Africa.
"Fairtrade Fortnight is taking place now and all stories are focused on showing the real impact of Fairtrade for those people who produce the products we love and consume on a daily basis," says Baldo.