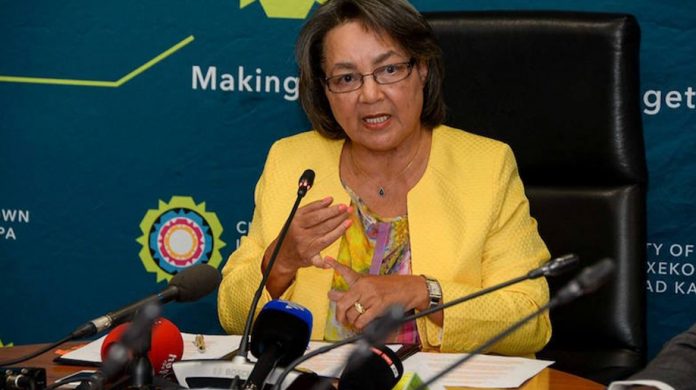 New water augmentation
The City has commenced procuring and commissioning, in a staged way, various augmentation schemes with the intention of making available up to 500 Ml/day of non-surface water.
Request for Information/Ideas (RFI)
On 19 June 2017 the City released an RFI to the market for proposed solutions that would enable the City to temporarily establish several small, intermediate and possibly even large plants to supply potable water. By the closing date on 10 July 2017, over 100 submissions had been received. The proposed solutions offered were varied including desalination at various scales, inclusive of container solutions, barges and ships, water reuse technology at various scales, aquifer and borehole options, engineering and infrastructure options, and water demand management options, among others.
Our technical experts scrutinised the submissions, and were able to determine, with a significantly higher degree of clarity, the feasibility of commissioning various options, and the time it would take, if procured, to deliver the options. Importantly, the technical experts were also able to improve understanding of the costs involved. An extensive procurement plan is now in place and procurement has commenced.
The augmentation plan across technologies: getting to an additional 500 Ml of new water a day
A variety of technologies will be introduced to augment the system.
The below figures per technology reflect schemes at full production. Commissioning dates vary according to staging of procurement and complexities related to installation and site preparation. Installations are contingent on relevant licensing approvals.

In addition to the above, there is an additional planned augmentation of 10 Ml/day from the TMG aquifer and 1 Ml/day from the Oranjezicht Spring. Both these initiatives featured in the drought response prior to the launch of the Water Resilience Portfolio Response in May.
The urgency to get to these various technologies at the various locations is well understood. The City now has an advanced understanding of the requirements of each site, and how to connect new technologies into the existing water network.
Procurement
The RFI was not a procurement mechanism but did provide the City with valuable insights into the market of options.  This knowledge has been useful in planning an extensive number of rapid procurement initiatives that are being rolled out. The first tender was issued on 16 August 2017, and for the next several weeks the full number of tenders will be issued.
It cannot be stressed enough that the complexity of running multiple processes at the same time is a significant challenge. The stage is, however, already set due to work completed in recent weeks. Bid specification committees have been appointed, the development of bid specifications is in progress, and the bids are registered on the demand register. In addition, engineering consultants have been appointed to assist the process.
Each batch of tenders will be processed as quickly as possible. Council has provided the administration with permission to use emergency procurement mechanisms in order to ensure that Cape Town is able to achieve a safe supply of water, and has noted that procurement must be done within the bounds of the law and that all actions should be reported to Council. Rapid procurement is further supported by the Premier's declaration of the region as a disaster area.
Cost implications
Bringing so many new technologies online simultaneously at multiple sites around the city is expensive. Within the rules of the Municipal Finance Management Act (MFMA), budgetary provisions for augmentation will need to be increased and reprioritised. Every effort needs to be made to fund implementation this year from available resources and then to plan accordingly for the outer years.
Tariffs, inclusive of water and rates, are already established for 2017/2018 and cannot be adjusted. For this reason, consumers will not face any new costs for the remainder of the financial year. For this financial year, the finance team is working on making funding sources available, including cash, reprioritisation of existing water projects, a concessionary loan from an external funder, and curtailing expenditure elsewhere in the administration.
The City takes a conservative approach to finance, and so the exact funding requirements cannot entirely be known at this point in time. From information obtained from the RFI, along with expert work done by our consultants and own staff, we envisage that with regard to the Immediate Tranche and the First Tranche, the capital expenditure over this financial year and the next financial year will be in the region of R2 billion and the operating expenses will be upwards of R1,3 billion. Costing of the Second Tranche and the Extreme Tranche is still proceeding. 
It is inevitable that there will need to be new water and rates tariffs developed based on new modelling over the coming months, which will need to be put to Council for decision in May 2018, for implementation in July 2018.  It must be stressed that City will do everything in its power to curb expenditure across the administration to reduce the impact on future tariffs, but it can be expected that tariff increases significantly above inflation will occur in the 2018/2019 financial year. More information will be communicated as financial models are finalised.
All residents need to weigh up the costs of running out of water and the damage that will be inflicted on the economy and human health, compared with the costs of installing resilience measures to ensure that the city can adapt, survive and thrive no matter the extent of the drought shock it may encounter.
Licensing
Where new water augmentation installations require licensing, inclusive of environmental authorisations and water use licences, these are being sought from the relevant competent authorities including the National Department of Environmental Affairs and the National Department of Water and Sanitation. Our officials have already made the two national departments aware of the extent of the authorisations that will be sought. I will in due course be meeting with both ministers to request assistance in expediting all authorisations within the bounds of the law.
In addition, I will also be engaging with the Ministers of Finance and COGTA regarding the financial and legal requirements for this expenditure within the provisions of the law.
Programmatic implementation
The procurement and commissioning of multiple new augmentation schemes in rapid time is going to be one the largest and most complex expenditure programmes in the history of the City of Cape Town.
Our existing water and project management staff are pushing at maximum capacity to deliver the water resilience portfolio response, while at the same time managing the existing water system. Due to the multiple new installations that are envisaged, approximately 80 new staff (inclusive of contractors and permanent staff) will be hired in the coming weeks to assist with delivering the full extent of the envisaged projects.
A command hub will be established in the Civic Centre to allow for co-location of the full team.
Water demand management:
Restrictions
The target for water consumption in the city, which has been in place since 1 July 2017, is 500 Ml/day per day.  The actual consumption at this time is 610 Ml/day. The current restriction levels are at Level 4B which, among others, prescribes a maximum of 87 litres per day requirement on residents.
I would like to acknowledge the extraordinary contribution by the vast majority of our residents to conserving and using water more efficiently during the drought period thus far. Collective water usage has dropped from close to 1 000 Ml/day a day at the start of the year to just above 600 Ml/day a day last week.  Most of our residents have pushed hard through the implementation of more severe restrictions over time, starting with Level 2 restrictions (1 January 2016 / target 800 Ml/day), and then Level 3 restrictions (1 November 2016 / target 800 Ml/day), Level 3B restrictions (1 February 2017 / target 700 Ml/day), Level 4A (1 June 2017 / target 600 Ml/day) and Level 4B restrictions (1 July 2017 / target 500 Ml/day).
There is a very good reason that the City administration is driving down usage. Decreased consumption builds resilience and extends the availability of water in our dam system over a period of time. Notwithstanding the City's extensive plans to augment the water supply from non-surface water solutions, if we were to all save a further 100 Ml/day starting from now until the end of January next year, we would extend the availability of water in our dam system by about a whole month.
For this reason the City is contemplating the implementation of Level 5 restrictions. While this level of restriction will not adjust tariffs, as tariffs can only be adjusted by Council once a year, it is likely to include penalties for exceeding prescribed usage at the household level. More details will be forthcoming within the next month.
Our communications campaign to residents of Cape Town on how to save water has been extensive. We have offered a number of resources across various communication platforms, with recent additions including an online personal water use calculator. Our ThinkWater exhibition that promotes efficiency and conservation technology for households has toured at least five shopping centres with high foot traffic since the beginning of July 2017.
As we prepare for the hot summer months ahead, it is imperative that the consumption does not spike, especially considering the arrival of tourists during the holiday period. It must be noted that the increased population of the city during this period is commonly offset by a reduction in business and industrial consumption of water so the increased risk is not high. Nevertheless, a campaign targeting visitors will be instituted.
Pressure management
This week we have started a campaign on how households can personally reduce the flow of water from the municipal system to their households. This is involves the adjustment of water-isolating valves (stop-cocks) on properties to reduce flow rate. Further communication, including a video on how to perform this action, will be forthcoming in the next few days.
Pressure adjustments on bulk supply lines have helped to reduce consumption over recent months, and it is hoped that significant further reductions could be achieved if residents also reduce flow through the private-side isolating valve. Residents are advised that the City is intensifying its pressure reduction programme. The City will continue to intensify its pressure management initiatives targeting areas where pressure is still higher than two bars at the critical point.
The next two to three weeks are a crucial time to determine the effectiveness of these additional pressure management interventions, whether at the household level or the bulk supply level, towards attaining the 500 Ml/day collective consumption target.
At this time it must be stressed that the City has no plans to perform localised water-shedding. However, due to advanced pressure management, there may be occasions where properties in high-lying areas in various supply zones are will be without water for short periods of time.
Enforcement
The City has commenced the installation of water management devices to restrict high consumption households across Cape Town, as per the directive contained in public notice No. 54794 published in Provincial Gazette 7792 of 14 July 2017. The aforementioned directive was issued in terms of in the Level 4B restrictions, which empowers the City to install water management devices on premises where the water usage is unjustifiably excessive with respect to the restriction level.
We have sent warning letters to more than 21 500 households that are still using excessive amounts of water. Letters have been hand delivered to 175 households that were consuming over 100 000 litres per month.
Water management devices will be installed at properties where more than seven working days have been allowed for action to be taken by the customer. Where a substantial reduction in water use is evident, the City will not restrict. Where consumption remains high, water management devices will be installed at the cost of the property owner. The costs range between R4 560 and R4 732.
We started installations of water management devices at high consumption properties in Constantia and Claremont yesterday and will be continuing the installations in areas across Cape Town such as Durbanville, Southfield, Oakdale, Rondebosch, Crawford, Three Anchor Bay and Parklands.
Water inspectors and law enforcement officers continue to conduct compliance monitoring site visits and inspections on the ground. Since February 2016 to date, 370 Notices of Contravention and 479 spot fines have been issued.
We urge businesses and households to use alternative water sources for all non-domestic purposes and take the necessary precautionary health and hygiene measures.
Disaster management plan
The City's first priority is to avoid acute water shortages.  Day Zero is a moving date, affected by a variety of variables including rainfall, collective water usage, evaporation and new augmentation schemes.   
The City's work on the Disaster Management Plan for acute water shortages is continually being refined in conjunction with partners in other spheres of government. It is currently in its 10th version. A higher level of detailed planning is being sought, and hence the plan is not yet ready for distribution. The City is committed to releasing the plan by the end of September.
Conclusion
This announcement has intentionally focused on the initiatives required during the emergency and tactical phase, which is the period until the end of June 2018. These include initiatives to augment the supply of water and to drive down collective consumption of water. 
There are numerous other initiatives related to household and business adaptation that are under way which will be announced in due course. The strategic phase includes a number of initiatives, such as improving efficiencies in the Western Cape Water Supply System, rehabilitation of catchments outside of Cape Town's jurisdiction, and improved management and use of stormwater. The water resilience approach has both short- and long-term ambitions.
The road ahead is going to be very challenging. The City is throwing every available resource at ensuring that acute water shortages are avoided. Building water resilience is the number one priority of the City administration. I am confident that we have started a journey that will result in an improved public understanding of water, in which risk is better understood and planned for, and where we can more comfortably adjust to shocks and stresses as they relate to water.