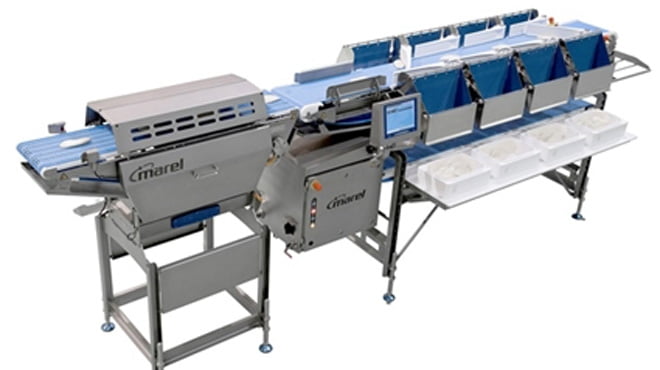 The new SmartLine graders offer the speed and accuracy of previous generations of Marel Stork graders combined with greatly enhanced hygiene and serviceability. SmartLine has an IP69K rating providing the highest level of protection available against high temperatures, ingress of dust and high pressure water.
Its open frame design and minimal use of horizontal surfaces ensure maximum hygiene during high-pressure washdown. Furthermore, strip-down time for cleaning has been vastly reduced, resulting in minimal downtime.
As well as being super-hygienic, the SmartLine is fast and highly accurate. Maximum throughput is 250 pcs/min, depending on the size of platform. With its complete modular design, the SmartLine can be configured to meet every processor's needs.
The SmartLine features a comprehensive, real-time reporting function (Innova Grading) that gives the operator a complete overview of the production process. Real-time data generates reports on weight distribution, average weights, a packing overview and packing list, as well as the standard overview and lists. This data can be viewed via dashboards. Based on the valuable KPIs (Key Performance Indicators) provided by Innova Grading, you can optimize your grading and batching results.
Marel Stork Poultry Processing has been supplying graders for more than 30 years and says it sources only the most reliable parts and components. Using few loose parts reduces the risk of damage and raw product contamination.
"Marel Stork graders are renowned for their robust construction. Even under the harshest conditions, the average lifetime of our graders is 15 to 20 years. All this ensures low cost of ownership and reduced downtime."
Marel Stork is excited to be launching the new SmartLine Grader series and offering its customers a revolution in hygienic grading, along with the combination of speed and accuracy, and the flexibility in grading and batching that meet the needs of every poultry processor.
"Marel Stork would like to share the passion for poultry processing with you! During AVI Africa 2015 we present innovative technologies that add value to the various parts of your process. At our stand you can meet product specialists that will show various solutions. We will be at stand 79/80 at Emperor's Palace from 23rd – 25th June 2015."