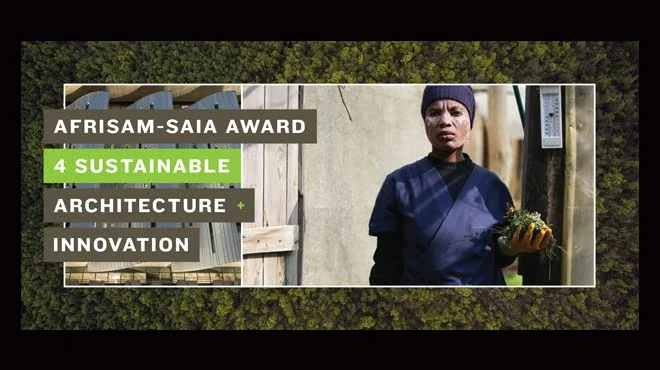 Seven Awards and four Commended projects were announced in the 2015/2016 AfriSam-SAIA Award for Sustainable Architecture + Innovation at a gala event in Cape Town recently.
The eleven projects chosen by the award adjudicators were among a total of 22 final qualifying entries that had been selected from a record number of eligible submissions earlier this year.
"The Awarded and Commended projects amply demonstrate the three main criteria that the adjudicating panel was looking at; – regeneration, reconciliation and restoration," comments Richard Tomes from AfriSam.
"These projects all make the world a better place by minimising their impact on the environment. They also bear the hallmarks of great architectural and social design. Together they represent the very best in sustainable architecture and innovation."
Winners
Category A – Sustainable Architecture, saw three Awarded projects – the DEA Building by Boogertman+Partners Architects, Gorgeous Green House by Sagnelli Associate Architects and Oudebosch Camp Kogelberg by Architecture Coop. These were joined by four Commended projects – Earthworld Architects' iCat Eco Factory, Local Studio's Outreach Foundation Community Centre, Daffonchio & Associate Architects' Maboneng Precinct and WWF SA Braamfontein by Alive Architecture.
Category B – The Award for Research in Sustainability went to Designing Hope for Pathways to Regenerative Sustainability, a book by Chrisna Du Plessis while Paul Marais' Otto Cottage was Awarded in the Sustainable Product/Technology category (Category C.)
Finally, there were two Awarded Projects in Category D – Sustainable Social Programme – buildCollectiveNPO with Carinthia University of Applied Science's Bridging Mzamba and Architecture for a Change's Malawi School.
The 2015/2016 AfriSam-SAIA Award for Sustainable Architecture + Innovation took place in a unique space adjacent to the Zeitz Museum of Contemporary Art Africa, a project supported by AfriSam. It was attended by representatives of the most compelling architectural practices, construction companies, social businesses and thought-leaders in the country.
"The awards are a resounding endorsement of sustainable and innovative design practice in the South African built environment, said Kevin Bingham, Awards Convenor and SAIA Vice- President. "We have entered a new era in which sustainable design is becoming a non-negotiable, integral part of the building industry. Alongside significantly impacting the lives of those who use them, the Awarded and Commended projects provide fantastic inspiration for Architects – and indeed everyone playing a part in our built environment."
The adjudicators of the 2015/2016 AfriSam-SAIA Award for Sustainable Architecture + Innovation were Kevin Bingham (convener), Daniel Irurah, Llewellyn van Wyk, Sebasti Badenhorst, Eric Noir and Richard Stretton.