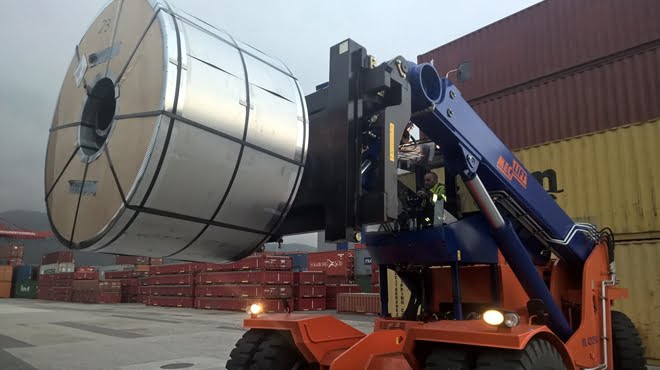 The Meclift range of heavy lifting equipment – available exclusively in South Africa from materials handling specialists, BLT SA – encompasses variable reach trucks, side reach stackers and various attachments. These machines are designed for swift, efficient and safe handling of heavy loads in diverse industries.
New to the range is the upgrade of ML1612R machines to the ML1812R series, which has a lifting capacity of 18 T and operates swiftly in confined spaces, including warehouses and cargo vessels. These multi purpose machines are able to lift 20-feet containers and stack them up to 3-high.
"Unlike conventional forklift trucks, robust Meclift ML1812R machines, with a lift height of 6 m, are able to drive into containers or reach inside a container for easy loading and unloading of goods and equipment," says Charity Gumede, marketing director for BLT SA. "These compact reach trucks offer cost effective solutions for heavy lifting. They increase efficiency and safety during materials handling procedures and also reduce operating times."
There are various kinds of lifting attachments available for Meclift variable reach trucks that enhance the performance, efficiency and safety of these multipurpose machines. For example, a Meclift ML1812R fitted with a coil ram or coil clamp, can efficiently and safely handle steel coils or rolls of wire up to 18 000 kg. By combining the strength of these coil handling attachments and the extended reaching ability of these reach trucks, cargo handling operations are safer, faster and more cost efficient.
Another important lifting attachment of the Meclift ML1812R series is the double fork system that enhances the flexibility and performance of goods handling. This special double fork attachment offers many benefits when loading and unloading containers or trailers. For example, four pallets or a similar load can be easily handled at the same time and it is possible to fully load a 20 ftcontainer with only two lifts. The weight of the load is not a problem because these double forks can handle the same maximum load of 18 tons, which is the lifting capacity of the machine. Double forks use the same fixing points as normal forks, which means switching between the two is effortless. Fork positioning can be altered from inside the cabin, without the operator having to get out to manually adjust the gap between the forks.
blt-sa-meclift-variable-reach-trucks-ml1812r-lifting-heavy-loads…two
Meclift variable reach trucks are powered by a diesel engine and are economical to run, requiring minimal maintenance. The lifting carriage has a hydraulic side shift for accurate and effortless positioning. The cabin's hydraulic vertical movement facility of 650 mm enables the operator to comfortably drive into a container. Air-conditioning, heating and radio are standard features for the Meclift range.
Horizontal booms extend the performance of these machines and also ensure excellent visibility for the operator. By extending, lifting and lowering these booms, containers, materials and equipment can be safely handled at a distance from the cabin. Other safety features include service, parking and emergency brakes.
Camera sets, extra cooling systems and diesel particle filters are options available to meet exact requirements.
BLT SA, which supplies a diverse range of heavy lifting equipment in South Africa, also offers a technical advisory, spare parts and support service.