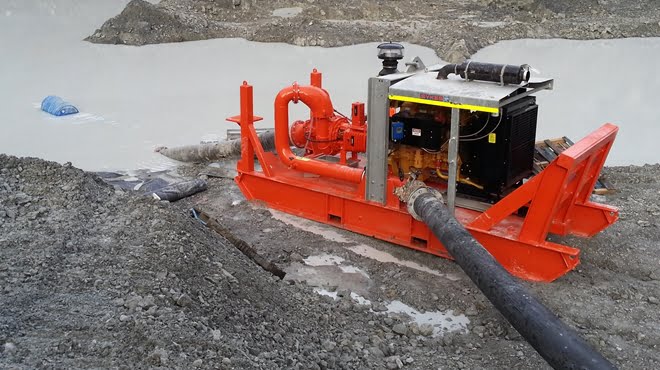 Dewatering is one of the most commonplace activities on mining and construction sites across the world. However, it is also one in which the incorrect selection of pumping equipment could have a major negative impact.
Lee Vine, managing director of Integrated Pump Rental, cautions that different dewatering applications calls for different solutions, and that it is not always a case of one pump fits all.
As an example, he explains that dewatering on a mine or quarry site requires robust equipment capable of withstanding the harsh operating environment, and more often than not pumps engineered to remove sludge and liquid containing solid particles.
Commenting on incorrect pumping equipment being selected for a given dewatering job, Vine says that this happens primarily because of a lack of understanding of dewatering applications, as well as a lack of knowledge when it comes to pumps and pump design.
"Most customers need a trouble-free pumping solution, and this means that the pump must be configured for the specific dewatering application," Vine says.
It is imperative that the pumping solutions supplier is able to accurately assess the site dewatering needs, and only then can an optimum dewatering plan be proposed. Factors such as the required capacity, suction lift and discharge head are important as are the basics such as access to power and logistics in reaching the actual site.
Integrated Pump Rental has built its success on providing fit-for-purpose dewatering solutions to its customer base, and the company operates an extensive fleet of pumps that caters for all type of application requirements.
As part of its total round-the-clock pumping solution, Integrated Pump Rental takes complete responsibility for all maintenance of pumps on site. This includes the keeping of a complete maintenance record which facilitates proactive, scheduled maintenance and optimum uptime for the pump installation.
Included in the rental fleet are the well-known Grindex submersible drainage and dewatering pumps, the locally engineered and manufactured SlurrySucker dredge units, the SlurryBlaster hydro mining equipment solution and Sykes dewatering pumps.
Significantly, popularity of the Sykes dewatering pumps has gained rapid traction since introduced into the Integrated Pump Rental fleet just over a year ago. Vine says that it is the ease with which these pumps operate that has driven the market acceptance.
"Sykes pumps are simple to use and can handle high volumes of water with ease, but more importantly the pumps are available mounted on skids, site trolleys and road trailers. This makes the deployment of this pumping equipment an easy and rapid task," Vine says. There are four different ranges available locally.
Pumps in the Sykes Contractors Range are fully automatic priming and can run dry for extended periods of time without damage. The pumps which have a suction lift up to 9 metres can handle solids up to 90 mm.
The Medium Head Range is engineered to perform reliably in both high water flow and long pipe run applications. These pumps have an efficiency rate of 77% and can handle solids.
The Sykes Himax Range offer what is claimed to be one of the best shaft stiffness ratios on an automatic priming pumps, these pumps handle solids up to 75 mm with ease.
Capable of handling particularly high pressures and loads without compromising its operation, the Sykes Extra Range is designed for efficient and effective dewatering in harsh operating conditions, such as those found in open pits and quarries.
Vine says that although possibly best known in the South African rental market for its diesel driven units, it is important to emphasise that Sykes do not only supply driven diesel dewatering pumps. "The Sykes range can be coupled to electric motors with VFDs so a complete curve or pumping range is available to the customer in a permanent application," he says.  
"What Integrated Pump Rental has proven to date is that coupling our team's expertise in dewatering with quality pumping solutions we have been able to assist customer with round-the-clock pumping support," Vine concludes.