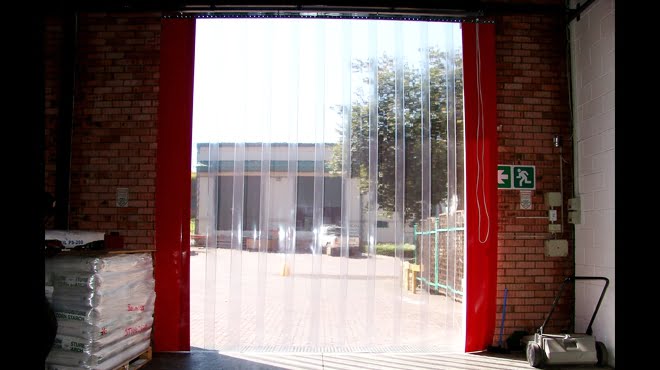 According to toolboxtips.com, 42% of all forklift fatalities occur within manufacturing facilities. While driver education on the correct operation of forklift trucks is a primary goal in reducing this risk, other elements also come into play.
Wim Dessing, managing director of Apex Strip Curtains and Doors, says that accidents can occur at internal entry and exit points as well as at points of transition between various sections in a manufacturing or storage facility. By ensuring that visibility is maximised, the risks associated with the movement of vehicular traffic can be substantially reduced.
Dessing proposes the use of strip curtains in doorways. "Apex Strip Curtains and Doors pioneered the use of flexible PVC strips in industrial applications more than 30 years ago and the use of these transparent strips to cordon off doorways and sections of a plant ensure optimised safety in the workplace" he says.
Apex General Purpose Strip Curtains are produced using specially formulated PVC material which is transparent for increased visibility and will not discolour, crack or tear over time. The individual strips incorporate the company's patented Balledge feature which, while ensuring an effective thermal seal at all times, allows the strips to part easily allowing unimpeded movement of personnel or vehicular traffic. The Balledge design comprises a reinforced edge on the border of each strip that also provides extended life of the strips irrespective of the application in which they are used.
Another benefit provided through the use of Apex General Purpose Strip Curtains accrues in the food and beverage manufacturing and packaging sectors in the form of enhanced hygiene. Sensitive areas such as food preparation are governed by the Hazard Analysis and Critical Control Point (HACCP,) an internationally recognised food safety system that assists with the manufacture of safe food products.
Apex General Purpose Strip Curtains are HACCP compliant and play a vital role in the food and beverage industry by preventing the ingress of unwanted elements. This requirement is critical in the light of issues such as cross-contamination. Dessing says that production facilities as well as retail outlets have come to depend on strip curtains to minimise the entrance of dust and heat while at the same time facilitating easy access for personnel and vehicular traffic.
Apex General Purpose Strip Curtains are commonly attached to an overhead hanging rail and provide a cost effective and highly efficient way of separating atmospherically critical areas from temperature extremes and environmental pollutants. In addition to their obvious use at entrance and exit points, the industrial PVC strip curtains are also becoming increasingly popular as a means of temporarily partitioning areas within larger facilities.
"With an in-depth knowledge of the requirements under HACCP, our team is able to customise solutions that consider all design and regulatory elements within an operation," says Dessing.