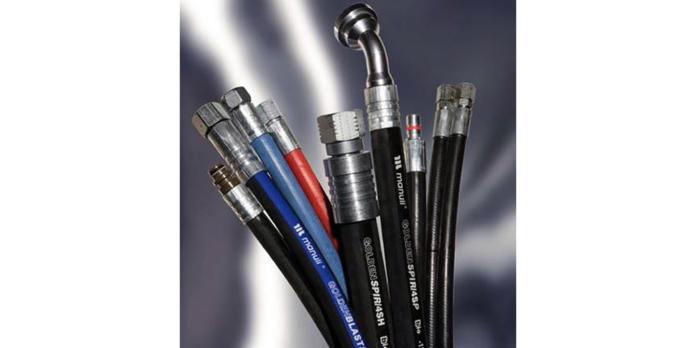 Manuli Fluiconnecto is an international distribution organisation, offering a complete range of high quality hydraulic components and technical services to a range of industries. Its hydraulic products are distributed to the mining, agriculture, marine, earth-moving, transport, material handling, lifting, industrial cleaning and general market sectors.
Manuli Fluiconnecto is a division of Manuli Rubber Industries (MRI,) a group of companies dating back to 1935. The origin of Manuli Fluiconnecto dates back 30 years with the establishment of Sonatra (Society Nantese de Transmission.) The company was based in France with the aim of providing hydraulic services and technical expertise to the global market.
In the early nineties, the Manuli product was available through distribution in South Africa. In 2008, a decision was made to open direct in South Africa and Powerforce, a well-established distributor based in Witbank, Mpumalanga, in the heart of the coal mining sector, was the first company to be purchased, and the first Hydroshop in South Africa was opened there. This enabled Manuli Fluiconnecto to capture the already existing market with the continuous supply of their product to the mines, and in addition, being able to provide an added value service to their customer in the form of an extensive global network representation of the company.
The success of the acquisition sped up the process of setting up a Head Office in Johannesburg. The Head Office forms a vital function in the administration, finance, training and support of staff and the distribution of product. Manuli Fluiconnecto now boasts eight Hydroshops, strategically situated to service the industry nationally.
Manuli Fluiconnecto SA is currently 25.5% Black Owned and a 100% BEE procurement recognition level; 100% Enterprise Development contributor and 100% Socio Economic Development contributor. The company has implemented a quality management system compliant to ISO9001: 2008 and OHSAS 18001: 2007 certified
"Our fundamental business principles and core values encompass placing the customer first by understanding their needs and exceeding their expectations," says Colin Hood, general manager at Fluiconnecto.
"When we opened up in Cape Town, we initially found it difficult to penetrate the local market but relationships were quickly established and Fluiconnecto Cape Town is now well known in the local market and doing very well."
Manuli Fluiconnecto carries a range of over 1,400 standard line items as well as diverse range of specialised products for all industries. All products are tried and tested to meet stringent local and international standards and the company is committed to producing products of the highest quality.
Hoses
Manuli Fluiconnecto's hose product range offer a wide variety of solutions for all industry sectors. It has a standard universal range of braided and spiral hoses available, as well as an extreme hose range for high impulse, high pressure and high temperature applications. It now also has the complete range of mobile air-conditioning hoses as used in most OEM (Original Equipment Manufacturer) vehicles.
"Our comprehensive range of specialised hose assembly machinery supports our product line."
These range from small mobile hand crimpers to those capable of crimping 3″ 6 spiral hose assemblies and a complete range of cutting and skiving machines, to complement the company's already vast range even further.
Fittings
The fully comprehensive range of fittings cover all end terminations for all industries. MF2000 is available with skive and non-skive technology for both braided and standard spiral range hoses, as well as the interlock plus and Xtralock series, which includes the Xtraflange range where internal and external skiving are required on extreme impulse and pressure applications.
Adaptors
MF4000 is a quality range of adaptors covering a wide spectrum of end terminations i.e. BSP, Metric, JIC, ORFS, NPT and SAE specifications.
Quick release couplings
The Q-Safe range of quick couplings enlarges the company's product offering to clients and is available in:
Pin Type
Ball Type
Flat face
High pressure, screw together for jacking equipment
This Q-Safe range meets with the required ISO specifications, and are fully interchangeable with other brands in the industry.
Thermoplastic and PTFE
Manuli Fluiconnecto offers a wide range of quality thermoplastic and PTFE hose products to compliment the Manuli product range.
Compression fittings and tubing
To add to the flexible hoses and fittings on offer, there is a range of steel tube and compression fittings available ex. stock.
Hose protection
This is a hi-tech range of products dedicated to heavy demanding applications. The product range includes spiral guard (standard and FRAS,) textile and fire sleeving.
Services
Fluiconnecto have developed a state of the art Hose Management System called flu-id.
This system involves, a survey of a plant or vessel with existing hydraulic hose assemblies, while trained technicians capture the relevant data and then tag the assembly with a unique number, this is then uploaded onto the company's unique software programme that will alert the customer when the hose assembly should be changed, ultimately saving the customer downtime and money, as well has decreasing safety risks and environmental damages.   
Manuli Fluiconnecto has also recently added a brand new Service on Site (SOS) van solution for its customers. This service allows the company to make assemblies on site to the customer's requirement's saving the customer down time on his machines. This service also includes Prototype installations as well as removing and installing of hose assemblies on site.
Hood concludes by saying "Our Hydroshops offer 24-hour support and assistance to all our clients. Not only does this allow Manuli Fluiconnecto to provide a prompt and flexible technical service at all times, it also ensures the client is never left without the necessary technical support. Manuli Fluiconnecto are continuously developing and adding products and services in order to satisfy our customer's needs."
---
By: Kristy Jooste