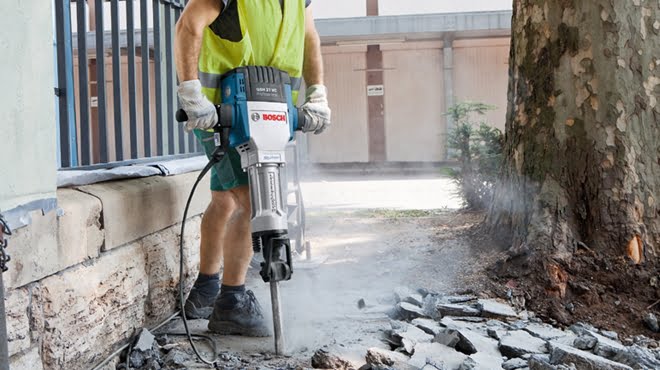 What is claimed to be the world's most powerful electric breaker has been launched by Bosch, with impact energy of 69 joules, having an average material removal rate of 3.2t/h – a 50% increase over the previous model.
Its low vibration of 8m/s2 , due to the vibration – reduced hammer mechanism and decoupled handles, provides professional tradespeople with fast work progress, as well as more comfortable working conditions, with reduced vibration, Campbell Mhodi, Bosch Professional Power Tools Senior Brand Manager, points out.
The Bosch GSH 27 VC also sets new standards with regard to lifetime and tool handling. Durability and superior lifespan are guaranteed thanks to the robust construction, which uses high-quality aluminium and steel components.
A brand-new feature is the anti-slip surface on the housing cover, which means that this 27kg breaker can be propped up against a wall conveniently and safely, or against suitable objects between operations, without any danger of falling over.
"This saves the user the extra expended effort of having to lay down and lift up the tool repeatedly," Mhodi explains.
The tool's low centre of gravity and ergonomically-shaped, soft-grip handles ensure optimum tool handling. Optional accessories for the Bosch GSH 27 VC include the new SDS-max RTec Sharp flat chisel and SDSmax pointed chisel. The particularly long, selfsharpening cutting edge of these chisels has been optimised even further for greater and faster material removal requiring no downtime for re-sharpening.