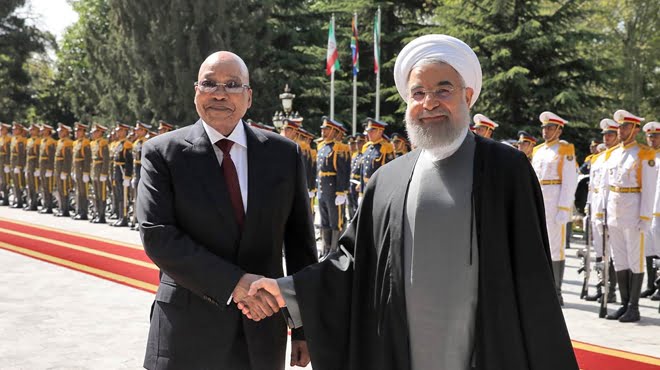 According to SAnews.gov.za South Africa and Iran have agreed to increase non-oil trade and investment to a billion dollars by 2020.
This emerged on Sunday after talks between President Jacob Zuma and Iran's counterpart President Hassan Rouhani.
President Zuma is in Tehran on a two-day visit.
Speaking during the South Africa-Iran Business Council, President Zuma said the agreement is imperative in diversifying trade baskets in favour of value-added trade.
"This would add much impetus towards addressing issues of job creation as well as skills and technology transfer in both our countries," said President Zuma.
The two countries also signed eight bilateral trade agreements in the fields of trade and industry, energy, mining, agriculture, water resources, and co-operation in intelligence gathering and anti-money laundering initiatives as well as an accompanying roadmap which provides a good departure point for strengthening economic cooperation.
President Zuma also lauded efforts to formalise the establishment of the South Africa-Iran Business Council, saying it would translate into tangible deliverables and would add further impetus towards expanding on the economic ties between the countries respective business communities.
"As we embark on this journey of re-building our trade ties, allow me to reassure you, that South Africa is well positioned to deliver on its commitments as outlined in the various agreements entered into by the different ministries."
President Zuma told the captains of the industry that South Africa has an open economy and provides a sound business case for investment and profit.
"Our country offers a diversified base of industrial sectors and has a large number of competitive industries, abundant natural resources and well-developed transport and logistical infrastructure. Our financial systems are stable and we have a sound constitution and institutional framework to protect property rights."
He encouraged them invest and enjoy robust protection in South Africa.
"Our socio-economic roadmap, the National Development Plan, provides a coherent, comprehensive and pragmatic plan to transform our economy.
"It also provides a plan for faster economic growth that is more inclusive, thereby addressing the triple challenges, of poverty, unemployment and inequality."
President Zuma identified areas of investment that Iranian investors can look into. These include building the agriculture and agro-processing value-chain, unlocking the potential of SMMEs, joint cooperation in energy projects and growing the Ocean Economy.
Another exciting area for partnership is Operation Phakisa, which is a strategy aimed at unlocking the economic growth potential stemming from South Africa's vast ocean coastline.
"South Africa offers many opportunities, not only for access to a growing domestic market, but also as a platform to the dynamically growing markets of the African continent."
As of 2015, total trade between South Africa and Iran stood at R358m – due to the various sanctions that were imposed to Iran.
But with the lifting of the sanctions, the two sides aim to rebuild their economic future.
---
Source