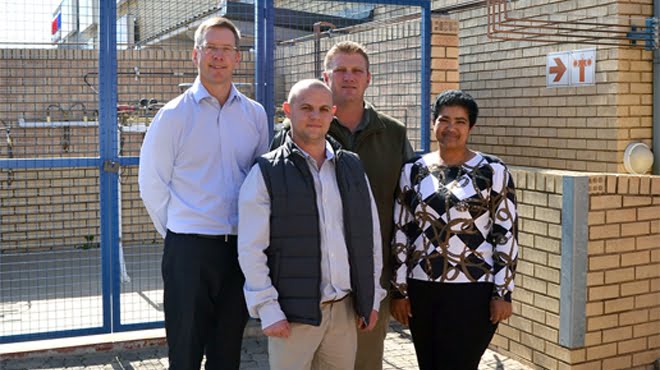 With a strong focus on supply chain efficiencies, Air Products South Africa has built up strong relationships with its distributors, creating partnerships which are mutually beneficial, and which are in support of the gas industry as a whole. A case in point is its distributor Cosmo Industrial, based in Silverton, Pretoria.
"Cosmo has demonstrated a refreshingly energetic and 'can-do' approach to business, enthusiastically embracing opportunities over the years we have been associated with them. The result is a highly successful extension of Air Products' product base, value system and footprint, and a synergistic partnership which can only go from strength to strength," says Jorg Scholz, Distributor Business Manager at Air Products South Africa.
Established in 1994, Cosmo Industrial is a supplier of gases and gas-related products and equipment to a wide base of customers in the engineering, petrochemical, pipeline, mining, rail and heavy manufacturing industries.
From modest beginnings, the company has grown incrementally into a thriving business today. Cosmo distributes a wide range of welding gases through Air Products' customer-oriented supply modes, from cylinders to maxi-tanks and the CryoEase offering for large-volume requirements.
"Customers perceive Cosmo to be a reliable 'one-stop-shop' with regards to their gas and gas equipment requirements based on their expertise, efficient and fast service and a quality product base," says Scholz.
He adds that the true 'litmus test' of a good distributor in the industrial gas industry is one which not only invests in its business and in that of its supplier – as Cosmo has done over the years with its vehicle fleet, staff and safety training and compliance – but also in its asset control and management over a long period of time.
 Air Products' monthly monitoring of Cosmo's CryoEase customers' gas usage via its telemetry systems also enables an accurate forecasting of future needs, further enhancing customer service levels.
"Our shared approach to finding solutions, especially through some difficult economic times in the past, has strengthened our relationship with Air Products," says Pierre van Nieuwenhuizen, Cosmo Industrial's Managing Director: "We have found that Air Products has always been ready to listen to us, and to take our ideas and requests seriously. Importantly, we also share the same values when it comes to training and 'giving back' to industry."
On another exciting note, Cosmo Industrial unveiled its plans regarding an in-house training academy as part of its 20th anniversary celebrations in 2014. This is an initiative which will be undertaken with the support of various role players in the industry, as well as of Air Products.
A long-time corporate member of the SAIW and sponsor of its annual Young Welder of the Year competition, Air Products embraces opportunities to support and empower youth, particularly when it comes to industrial skills shortages.
"The field of welding, which is critical to so many industrial and manufacturing processes, requires a focus on ongoing training initiatives to ensure that we grow an increasingly skilled workforce," comments Scholz. "We feel it is incumbent on Air Products to give back to the industry by assisting and 'upskilling' young welders, thereby ensuring the future sustainability of both the welding and gas industries in this country."
Once it is operational, the Cosmo welding academy will offer both training and training facilities in basic welding techniques; as well as apprenticeships which are of benefit to companies wishing to fulfill their own training and skills development requirements.
Air Products is sponsoring the full installation required to supply its various welding and cutting gases to the welding bays, which will be used for practical training. Air Products has furthermore incorporated its CryoEase mode of supply for this installation, which not only acts as a source of supply to the school but as a demonstration unit for future CryoEase prospects.
"Training will be done using a range of Air Products' gases, including argon, oxygen and acetylene; and various welding mixtures, such as Coogar 84, Magmix 3," advises Scholz.
"Sponsoring the academy not only affords us the opportunity to showcase our products and capabilities in the welding industry, but it serves to strengthen our relationship with Cosmo through investing in critical skills development," he concludes.