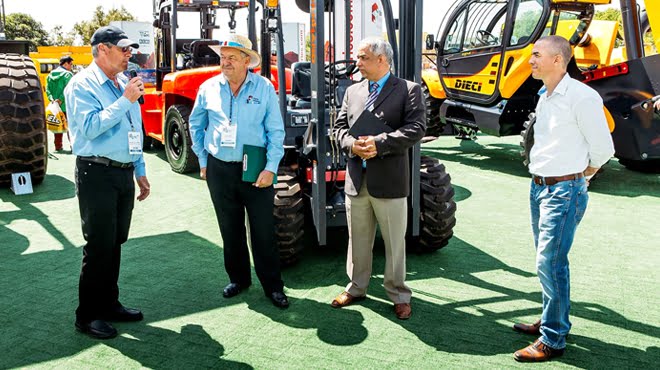 In an initiative that combined both corporate social investment and environmental awareness through recycling, Torre Industries has benefitted Kliptown Secondary School in Lenasia with the donation of AstroTurf to the value of R146,000.Quentin van Breda, technical director at Torre Lifting Solutions (formerly SA French) explains that the AstroTurf was ordered as the flooring for the Torre Industries stand at the recently held BAUMA CONEXPO exhibition in Johannesburg.
"The AstroTurf provided an attractive and durable surface on which to display our offerings and interact with the visitors. However, once the exhibition was finished we needed to do somethingworthwhile with the AstroTurf since storing it until next year was not a feasible solution."
Van Breda approached the Torre Industries BBBEE partner – the Mineworkers Investment Company (MIC) – to find a suitable beneficiary for the AstroTurf. Kliptown Secondary School, which has 1,420 learners, was identified and is currently using the AstroTurf as temporary seating for learners who are unable to find seating in the classrooms.
Evan Zain, principal of the school, explains that Kliptown Secondary School is one 28 schools in the area catering to the education of the youth from surrounding informal settlements.
"There are only seven sports facilities in the area so it is almost impossible to find a gap in the hectic stadia timetables for our learners to play football. The donation of the AstroTurf is allowing us to plan for a five-a-side pitch in 2016."
He says that the school is currently in the process of securing a suitable area and once this is finalised, the AstroTurf will be permanently laid in place for the students to enjoy football matches. "In the interim we are thrilled that our learners are able to use the artificial grass surface whilst we make further plans to accommodate them in the currently overcrowded classrooms. At the end of each school day we simply roll up the AstroTurf and store it in a classroom. It is making a big difference in our lives and we are excited about its next role as a football pitch."