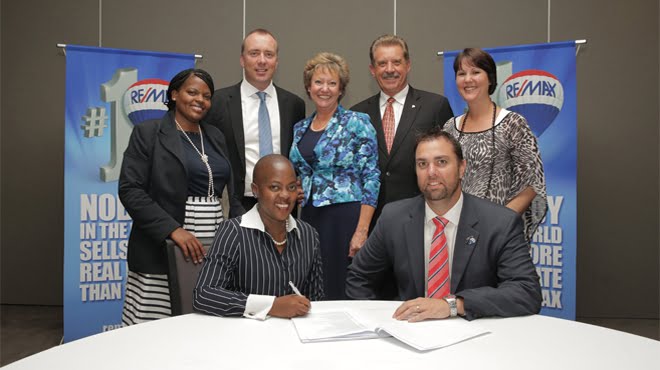 RE/MAX of Southern Africa has achieved huge growth and success since establishing in the country 20 years ago. RE/MAX is now the largest real estate company in South Africa with over 2,200 agents and sales in excess of R22bn in 2014.The brand operates in 10 African countries and is part of the world's largest real estate brand operating in over 90 countries worldwide with over 6,500 franchised offices and over 95 000 RE/MAX real estate agents.
In order to position the company for continued growth in all markets in the next 20 years, RE/MAX has announced that Z Capital Properties (Pty) Ltd, a prominent black empowerment company, has purchased a 45% ownership interest in RE/MAX of Southern Africa.
"We have taken this important step to show the industry and our local clients, that we are serious about leading the industry into the next decade of real estate," said Peter Gilmour, Chairman RE/MAX of Southern Africa.
The Department of Human Settlements and the EAAB have in recent statements and in proposed legislation to be implemented in 2015, showed that transformation is very high on their agenda and RE/MAX wanted to be the first real estate group out of the top six groups in the country to introduce black ownership at the highest level.
Yolanda Cuba, Chairman of Z Capital, said, "We are very excited to pioneer black ownership in the largest real estate group in the country and plan to be closely involved with the growth and developments of our entrepreneurial estate agents going forward."
Amanda Jivhuho, CEO of Z Capital, said she was looking forward to taking the leadership role in the real estate industry and to be working closely with the EAAB and the government to unlock the huge potential there is for home ownership in the country.
The Betterlife Group, who are long established business partners of RE/MAX, facilitated the financing of the deal and intend to offer increasing opportunities to RE/MAX offices and agents to increase their income in the future.
RE/MAX South Africa is celebrating its 20th anniversary in 2015 since being founded in 1995 by Peter and Val Gilmour, and is now almost twice as large as their nearest competition. The brand was established with a goal to attract the best agents in every market throughout the country and to date, is a long way down the road to achieving this with record sales in all markets in 2014.
"Our vision is to continue growing our market share in our traditional markets with experienced producing sales associates who provide an ethical professional service to their customers," adds Gilmour. "We will, in addition, provide a system for entrepreneurs who have the ability to be the next real estate stars to become producing sale associates who can build a sustainable career in the real estate industry."
He notes that nearly 30% of the current RE/MAX membership in Southern Africa consists of agents of colour, many from disadvantaged communities around the country, compared with the current industry number of approximately 5%. "We plan to grow in 2015 with the many entrepreneurs from disadvantaged backgrounds who presently have no employment and who would like to build a business in the real estate arena," says Gilmour.
RE/MAX has already established substantial market share in upmarket areas of the country, including the north-west suburbs of Johannesburg, Pretoria East, Ballito, Umhlanga, Port Elizabeth, Blouberg, Tableview, the City Bowl and seaboard areas of the Cape. They plan to expand their presence in these markets in 2015 with the introduction of The RE/MAX Collection Brand, which is well established in other countries worldwide.
RE/MAX has also entered the affordable housing market with the establishment of RE/MAX Kairos in Soweto, and plans to grow this market rapidly in 2015 to assist first time home buyers to invest in their first home.
"RE/MAX agents are entrepreneurial, professional and trained to international standards to ensure clients and repeat clients receive an outstanding level of service in their real estate transactions. With the highly qualified individuals strengthening our leadership team, we expect to take advantage of opportunities that will emerge in the industry over the next decade," said CEO of RE/MAX of Southern Africa, Adrian Goslett. "In the next five years our goal is to double our agent count by moving into areas we do not serve at present, and to continue to improve our professionalism and service to our real estate customers."
In 2015, RE/MAX intends launching exclusive, innovative technology for their agents and will also open an in-house Training and Licencing School for entrepreneurial estate agents. Personal development programs will be introduced for experienced agents and a number of prominent overseas trainers will be in South Africa to train RE/MAX Agents. "RE/MAX will fully support the EAAB initiative 'One Learner, One Office' program and will use the Training and Licencing School to facilitate this," says Gilmour
The brand will also continue its extensive marketing campaigns on TV, Radio and print to ensure it maintains the high profile it has established over the last 20 years.
2015 will likely bring a gradual increase in interest rates but we do not see this as having a significant effect on the market initially. As we ended 2014, we saw a strong demand for property from the most expensive areas down to the affordable houses and we expect this demand to continue well into 2015. As happened in the US in 2010, we expect the real estate market to play a pivotal role in the recovery of the Southern African economy in the next two years.
"RE/MAX is now well positioned to continue to play a leadership role in the way real estate is conducted throughout the country and has great confidence in its professional service orientated agents and franchisees," Gilmour concludes.