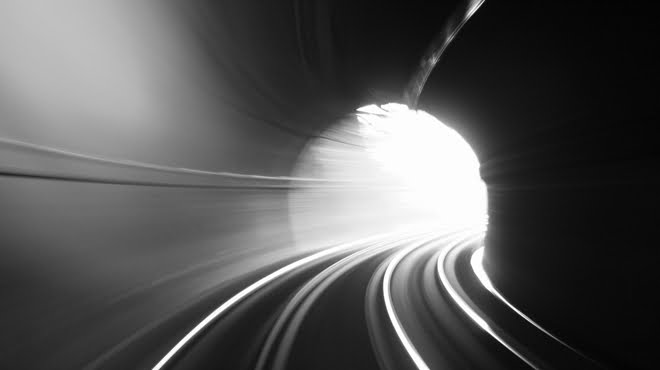 The synchronisation of Unit 3 at the Ingula pumped storage scheme on 6 March 2016 means that load shedding is likely to be consigned to a footnote in South Africa's economic development.
In 1882 Kimberly became the first city in Africa to experience the benefits of improved security and longer economic activity brought by electric street lighting, even managing to beat the centre of the British Empire, London, to this important milestone.
As the locus of economic activity shifted to the Transvaal goldfields, Johannesburg in 1891 became the first African city to install an electricity reticulation system, which was powered by steam engines. In 1906 these smaller steam-powered power stations were bought out by the Victoria Falls Power Company as large centralised power stations provided economies of scale and could reduce the cost of power.
These economies of scale meant that electricity generation, transmission and distribution had the characteristics of what economists call a "natural monopoly." That meant that the state had the choice of either regulating it or owning it. In South Africa's case, the state decided to own it and in 1923 set up the Electricity Supply Commission, which is the antecedent for Eskom.
The purpose of the Electricity Supply Commission was in the words of its first chairman, Dr Hendrik van de Bijl "to be ever ready to provide power without profit, wherever it may be required." 
This commitment to provide cheap power to boost South Africa's economic development meant that the 100MW Witbank power station was the largest power station in South Africa in the early 1930s and producing the cheapest power in the world.
This commitment to produce cheap abundant power is what drove South Africa's economic development in the subsequent decades and it was only in January 2008 that South Africa received a wake-up call when load shedding was introduced. Load shedding then was caused by excessive rain that impacted on coal quality, hampered coal deliveries and increased demand to provide more lighting and heating in shopping centres and manufacturing plants. 
The South African economy in the 2003 to 2007 period had been growing at a strong rate of near 5% y/y for several years. Being energy-intensive in nature, electricity has always been a cornerstone of the national economy.  It was therefore imperative that sufficient capacity be provided to support the economic growth and development targeted by government. 
Since January 2008, however, electricity production has at times not been able to meet peak demand. The 1998 Energy White Paper stated in section 7.1 that: "although growth in electricity demand is only projected to exceed generation capacity by approximately the year 2007, long capacity-expansion lead times require strategies to be in place in the mid-term, in order to meet the needs of the growing economy."
It said that the next large power station tendering process should start in 1999, but this was not done as government was trying to encourage private sector participation and also trying to launch five Regional Electricity Distributors, which however were stillborn.
In 2009, Eskom planned to deliver new capacity as set out below.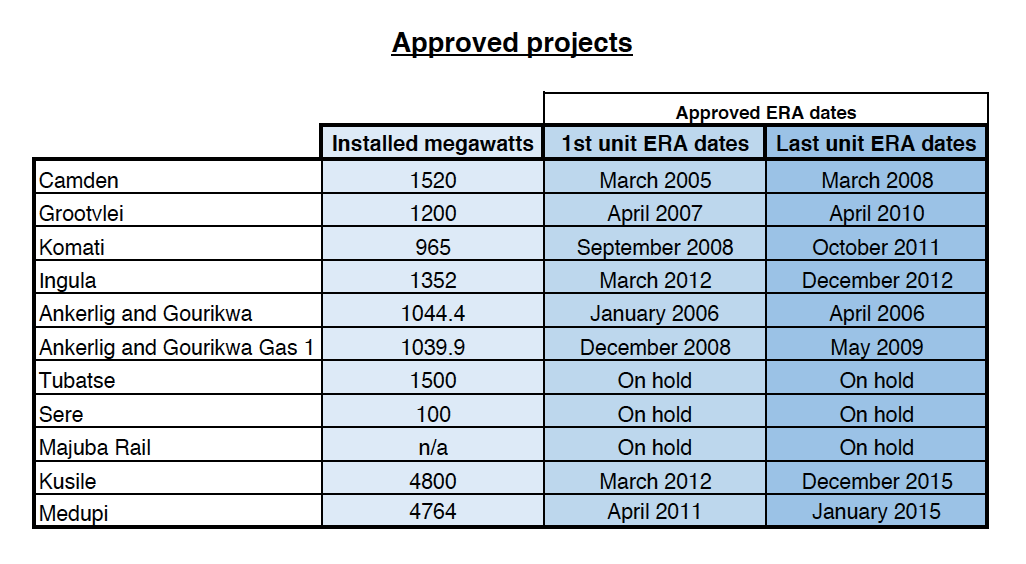 The effects of the Great Recession on access to finance, poor project execution and industrial action and stoppages for safety inspections meant that on average the three new build projects of Ingula, Kusile and Medupi are running four years behind schedule with consequent cost overruns and revenue loss.
This meant that South Africa once again returned to intermittent load shedding from March 2014 onwards, even though the economy was performing below its long-term growth trend.
The February 2015 peak demand/supply curve shows how bad the situation became, due to the lack of new generating capacity as the older capacity required more frequent maintenance and had more unplanned outages.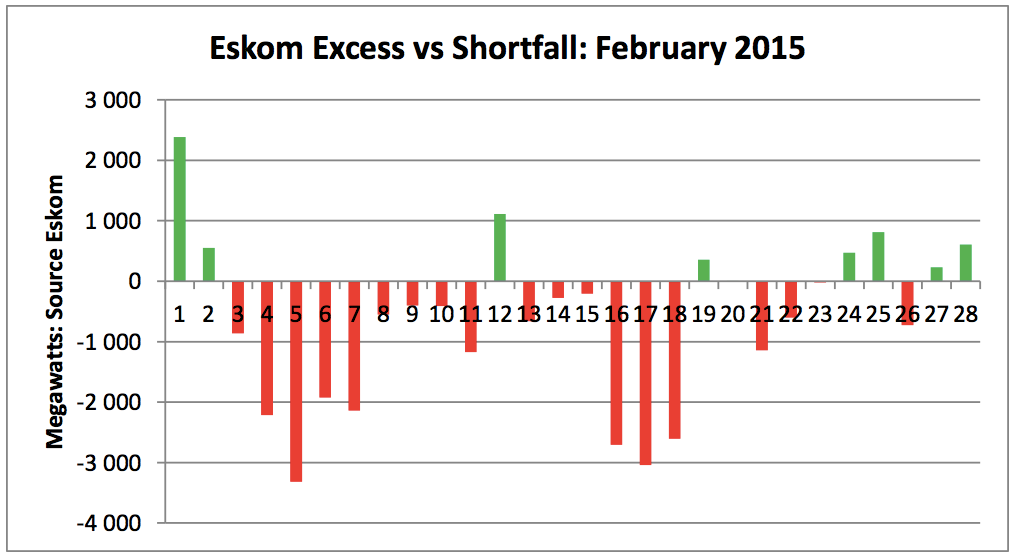 What was especially worrying was that this load shedding was taking place in summer, whereas the winter peaks could easily add up to 4,000MW more demand.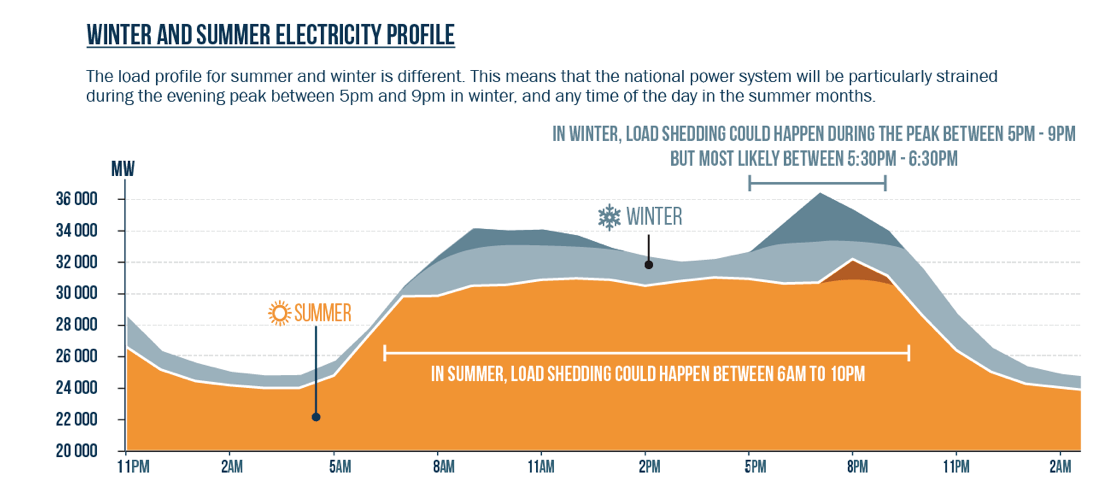 To cope with the peak demand, Eskom uses pumped storage schemes such as Ingula and expensive to run Open Cycle Gas Turbines (OCGT.) Pumped storage uses off-peak power to pump water to an upper dam and then releases this water to a lower dam to generate power during peak periods. OCGT use diesel to power turbines, but this is more than 20 times more expensive than coal-fired power.
The commitment to "keep the lights on" meant that instead of using OCGT only during peak periods, Eskom was using it during daylight periods. The result was that generating costs escalated sharply, which Eskom tried to recoup by asking for higher tariff increases.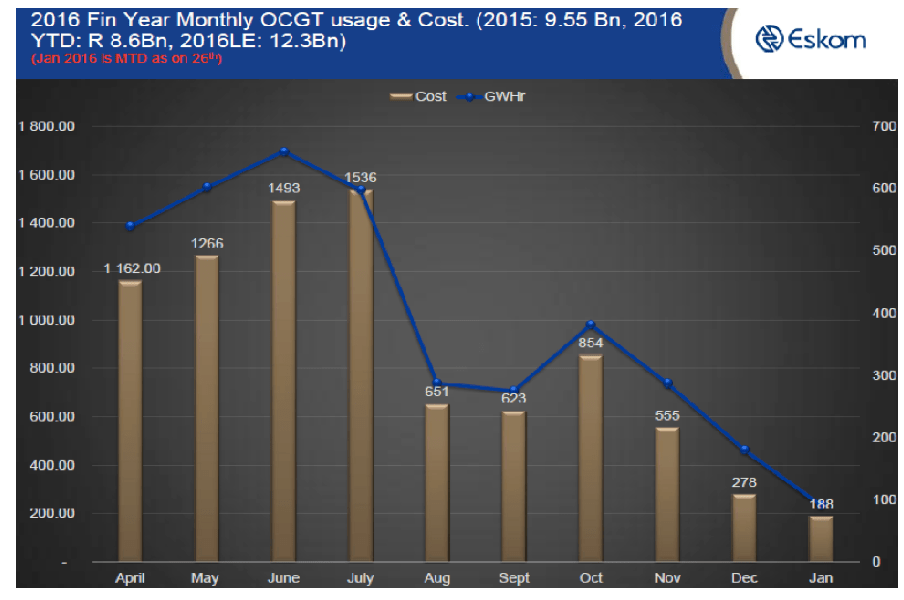 The new management team at Eskom in 2016 set out a new build programme as shown below.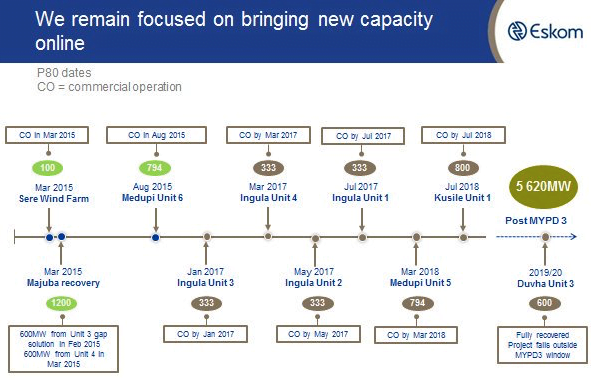 In less than a month after this was published, CEO Brian Molefe could say that the first unit was synchronised on 6 March 2016 and that all four units should be synchronized by January 2017. 
This will mean that Eskom has moved ahead of the new build programme curve for the first time this decade with the promise that in 2018 it may be able to sell "excess" power to neighbouring countries, who are also power deficient. In January 2016, Eskom supplied Zambia with off-peak 300MW and this is likely to continue until the winter months of July and August. 
The good news that there has been no load shedding since August 2015 has been superseded by the even better news that the new generating capacity coming on stream over the next few years will mean that we will have to go into an elaborate explanation of what "load shedding" was to our grandchildren in the same way that we would have to explain what a typewriter was.