May this year, Elgin Rust, our in-house media producer, travelled to Dubai to visit Consent, Terraforce's licensee in the United Arab Emirates. Consent is proud to be part of the Terraforce community since 2005 and have since been involved in numerous prestigious projects in the UAE and GCC countries. Most notably Consent supplied over a million blocks to Palm Jumeirah, Dubai, to help Nakheel, one of the world's leading property developers, create sustainable beach front gardens along each palm frond.
Rust also joined Sinan Awad, Alaamal Construction CO LLC, Terraforce block installer in the region, for a day of site visits. Here we had the chance to witness the miracle of Dubai, a city which strives to turn a desert city into a green oasis, with the help of sustainable, and in the case of Terraforce blocks, plantable landscaping products.
First stop was the aptly named Silicon Oasis. Here the Terraforce L16 block was used in a residential complex to create a recreational outdoor area for residents. The green boundary wall flanks the outdoor pool, children's play park and access roads. At another site, the blocks were used to create a public space complete with palm trees and benches.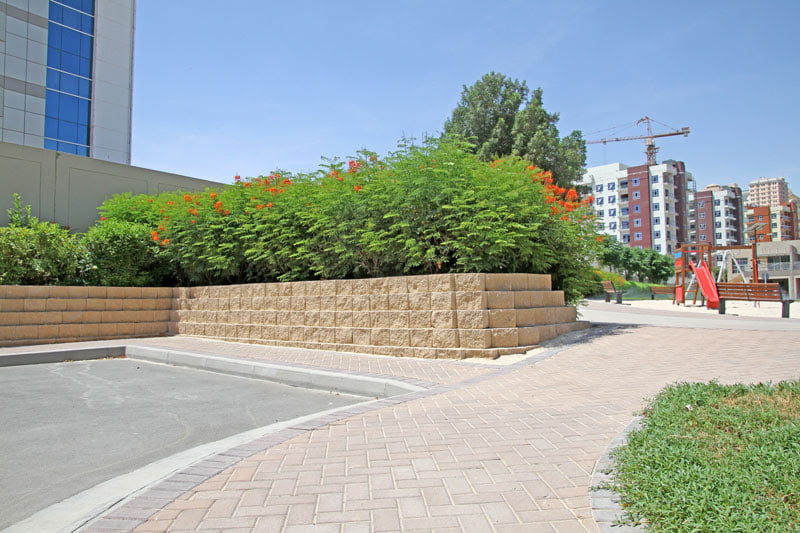 Another very impressive site visited was the Al Jalila Children's Specialty Hospital, an initiative of His Highness Shaikh Mohammed bin Rashid Al Maktoum, Vice-President and Prime Minister of the UAE, and Ruler of Dubai. Here the L16 blocks were installed by Awad and his team in June 2014 to create a green sound barrier as the hospital is located next to one of the main highways. Careful selection of the plants along with a drip irrigation system (on a timer) has allowed the green wall to flourish, creating a sanctuary for the patients being treated at the hospital.