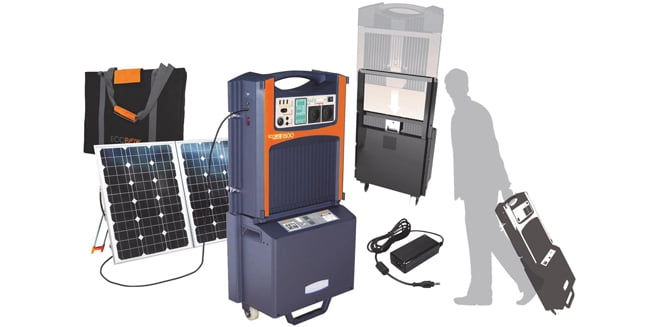 "The way power, and portable (solar) power in particular, is consumed has changed," says Paul Hubers, founder and director, Sungrid Group. "We are seeing an increase in demand, particularly across the building and residential estate market where the use of diesel generators is either not allowed or simply no longer the preferred option due to environmental concerns."
Whilst the use of diesel generators as an alternative supply was a common occurrence, this is no longer the case. In fact, many estates and office parks as well as camping and recreational sites no longer allow the use of diesel generators onsite. "Generators are both noisy and harmful to the environment," says Hubers. 
It is also not as simple as 'plug-and-play'. When making use of your generator during power outages, in order to ensure no harm occurs when Eskom reconnects the power one requires what is known as a bypass switch.  "This needs to be installed by a qualified electrician, adding yet more costs to the average household."  Alternatively, the household items running off the generator can be 'islanded' (disconnected from the mainboard) via an extension cord.  Whilst this would negate the need for a qualified electrician, the downside is that only smaller appliances are able to be connected, with no access to power for any heavier requirements.
Previously, solar power was the domain of costly and cumbersome installations, placing it out of range of many who could benefit. However, with recent and ongoing technical developments, the ability to harness the sun's energy and make it easily available for all to use, via simple plug-and-play products, is shaping the way in which consumers are approaching the use of solar as an alternative and viable option.
"What's also interesting to note," continues Hubers, "is the change in market demand for the type of portable (solar) products.  Developers, manufacturers and distributors of portable (solar) products, Sungrid Group has continued to expand its product range based on consumer demand. "Initially we offered products for light to medium power requirements.  However, the last few months has seen a considerable expansion of Sungrid Group's offering to include products capable of meeting both heavier and dual charging power requirements (the ability to charge the product both on- and off-grid.)
The recently launched Ecoboxx 1500 (EcoTank), capable of up to 350 hours of power, is a case in point. "In addition to providing enough power to support a small to medium sized business during times of load shedding or other interrupted power supply, we are seeing increasing demand for the EcoTank from residential and private homes, particularly in housing estates as an alternative to diesel generators," continues Hubers. "Its many other benefits and uses include outdoor recreational and  camping activities requiring heavier power, small guest houses, the local building industry and small business, to name but a few."
The EcoTank is true 'plug-and-play' with no installation required. "Place the unit in the sun, or charge via the more conventional grid method, and your home becomes immune to load-shedding schedules," continues Hubers. "The market response to this has been very encouraging, with many builders and architects now including items such as these as part of their overall offering to new home owners."