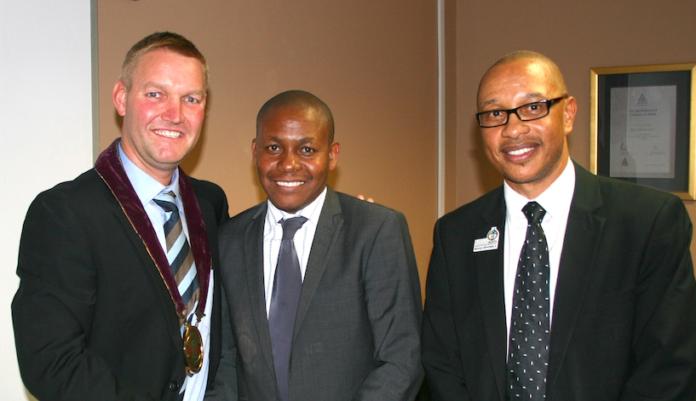 South Africa's escalating electricity tariffs, energy insecurity and the "risk of widespread blackouts" are among the main factors restraining growth in the economy, Isaac Matshego, economist at Nedbank told members of Master Builders Association (MBA) North at its recent annual general meeting.
He warned the meeting in Midrand that the worst could be yet to come when it came to soaring electricity tariffs. "Eskom had asked the NERSA for 8% annual tariff hikes over a period of five years but because of its cash crunch – which has reduced its capacity to supply the required power levels – it had to ask the Regulator to push the increase in costs up to 12,7% from April this year. We would like to think that from next year the annual increase in electricity costs will revert to 8% but it is not unlikely that Eskom could require a hike of even more than 12,7% in 2016 to continue its struggle to survive while waiting for the completion of additional power stations. And the costs are escalating: in 2006, it was estimated that the construction of the new Medupi coal fired power station would cost R26bn, but the current estimate is at least R124bn, although the new estimate includes three more generation units.
"South Africa is facing a high risk of widespread blackouts as Eskom's reserve margin is low, while it has to cope with increasing industrial and consumer demands. It should also not be overlooked that with each load shedding, Eskom loses potential payments for electricity consumed," Matshego added.
He said Eskom's inability to provide sufficient power for the country's needs, coupled with other negative factors such as the heightened labour unrest and weak exports in 2014, had resulted in business confidence plunging to a 15-year low point.
"Production cutbacks and job losses are invariably the result of such a scenario. South Africa needs a growth rate of about 7% per annum by 2030 to bring unemployment down to 6%. This year we are hoping for a growth rate of only 2,5% – providing the global economic environment does not deteriorate, and Eskom load shedding is kept to a minimum."
Matshego said that unemployment was in reality far worse than most figures quoted would suggest. "Government surveys typically pose the question 'have you looked for a job in the past four weeks?' and if the answer is negative, it is then recorded that the respondent was not unemployed while, in truth, he or she are among the masses of workers who had long given up looking for work. When these 'discouraged workers' are included in statistics, South Africa's unemployment rate would be as high as 34%."
The economist also brought cold comfort to the MBA North members by stating that 'planning and implementation are still not well coordinated' when it came to implementing the R382bn projects planned for infrastructural development between 2014-2017 – a delay that had caused extreme dismay to the construction and civil engineering sectors for some years now.
Despite the gloom that seems to be engulfing the economy right now, Matshego concluded his address by expressing confidence about the future of the country, stating that government's development policies such as the National Development Plan (NDP) should enable the country to overcome the seemingly insurmountable challenges.
However, in a floor response to his address, Nico Maas, a leading construction authority and past president of both MBA North and Master Builders South Africa, said the construction industry's current contribution to the GDP of only 4% per annum was unacceptably dismal. "The country needs to spend at least 15% of GDP for the South African economy to grow at acceptable levels. If the government continues to just plan infrastructural developments without any intent, South Africa and the construction sector have no chance of growing," he told the meeting.