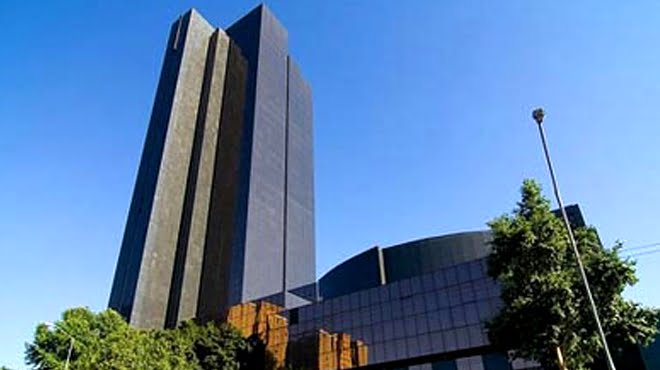 A continued cooling of inflation may encourage the South African Reserve Bank to shift toward easing, particularly with fresh signs that economic growth has slowed. Hence, July's CPI data, due on Aug. 24 at 9am London time, could have a bigger influence than usual on the central bank's agenda. If headline inflation comes in below forecast, and if the rand holds its year-to-date gains, the SARB might use its September meeting to signal a move toward cutting rates in 2017.
All the latest data will be under the microscope as the SARB prepares for its September policy meeting. Among the most recent releases is retail sales, which contracted in June after surging in May. Though volatile from one month to the next, the underlying trend remains one of softness, and the latest data suggest that the shrinkage of quarterly consumption growth recorded in 1Q is unlikely to have fully been made good in 2Q.
Growth momentum, at least that stemming from the household sector, looks weak.
Retail sales growth remains anemic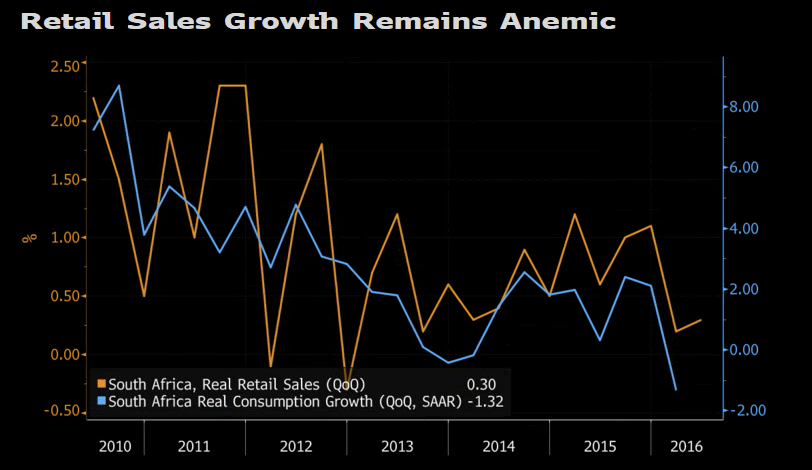 Inflation probably slowed to 6.1% in July from 6.3% in June, according to the consensus in a Bloomberg survey of economists. A continued moderation will put further pressure on the SARB to shift its monetary policy during the second half of 2016. BI Economics has previously highlighted the key triggers for a change in direction: a further deterioration in high-frequency economic data and changes to assumptions for the exchange rate and its pass-through to prices.
Inflation may have peaked earlier than SARB expected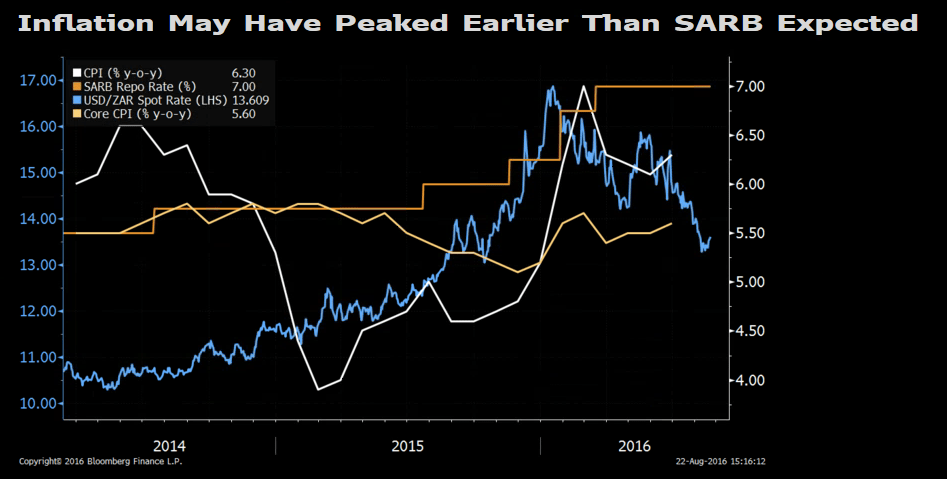 If July inflation comes in significantly below the SARB's expectations of an average of 6.5% for 3Q, it might prompt the Monetary Policy Committee to reduce its projections at its next meeting on Sept. 22.
2017 inflation expectations dropping sharply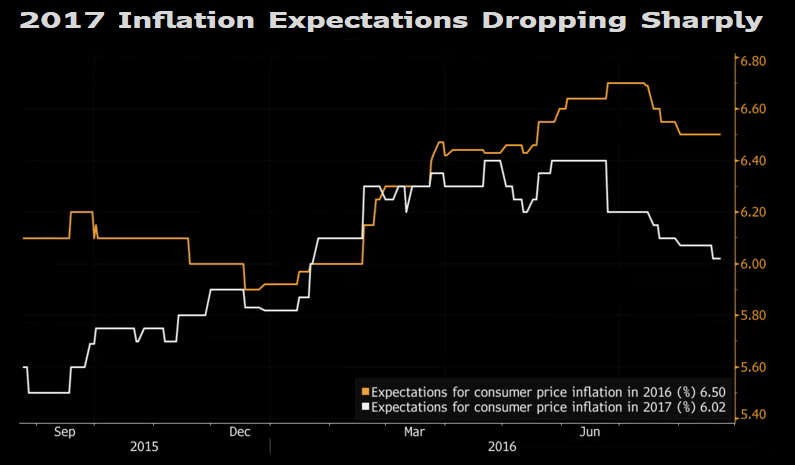 Some downward revision is likely because the rand is already stronger than the SARB had assumed it would be at its latest meeting on July 21, and the currency has continued to strengthen. In addition, the risk of inflation expectations becoming entrenched at an elevated level, which the SARB cited pre-eminently when it raised the policy rate in January and March, appears to have receded. Forecasts in a Bloomberg survey for average inflation in 2017 have dropped to 6.0% from 6.4% in June — that's right at the ceiling of the central bank's inflation target interval of 4.5% ± 1.5 percentage points, as shown in the chart above.
Market has priced out further rate hikes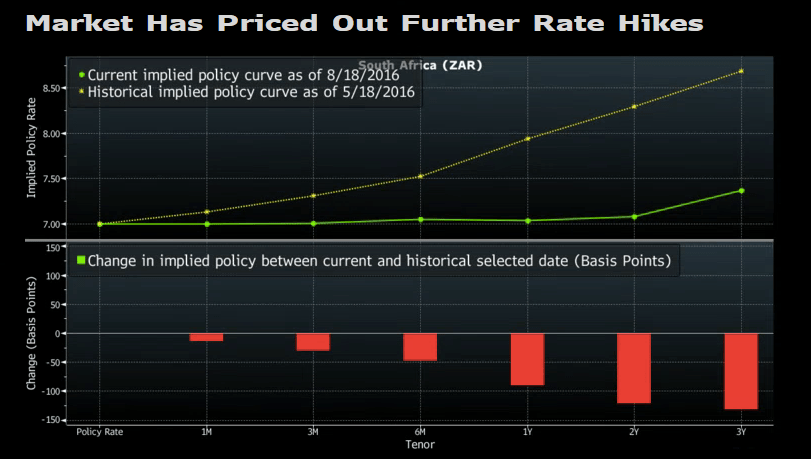 Expectations for rate hikes, as shown in Bloomberg's Market implied Policy Rates function, have dropped even more sharply. The MIPR curve, calculated from three-month interest swap rates, has moved from pricing a further 94 bps in rate increases over the coming year, as of mid-May, to only 9 bps at present. It's increasingly likely that market expectations will shift toward the SARB cutting rates in 2017. As inflation falls back into the target range, pressure will rise for the central bank to deliver rate cuts to support economic growth. The SARB has previously forecast a flat reading for growth 2016 as a whole, before a pick-up to 1.1% and 1.5% in 2017 and 2018, respectively. A key risk factor in cutting rates is the impact that a potential, if not to say likely, loss of South Africa's investment grade credit rating will have on the rand, and by extension inflation.
Source
Bloomberg Terminal