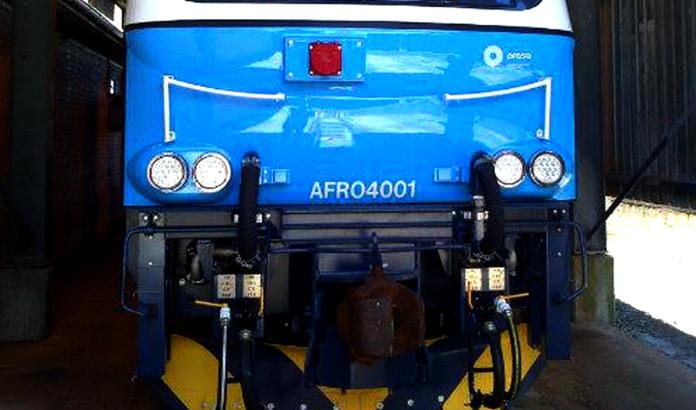 Cape Town saw launch of the new 4000 AFRO diesel series locomotive by the Department of Transport and the Passenger Rail Agency of SA (PRASA,) as the government's R172bn rail transport modernisation program progresses.
Minister of Transport Dipou Peters confirmed that her department had spent R51bn manufacturing 3,600 passenger coaches and R3.5bn on locomotives such as the new 4000 AFRO diesel series.
"This will change long distance passenger travel as well as provide high quality passenger services for commuters in the major cities and towns … In this day and age, is it correct for people to travel 25 hours from Cape Town to Johannesburg or Pretoria?" questioned Peters.
She added that PRASA should conduct a feasibility study for a high-speed train service between Gauteng and Cape Town, and other routes. This would help ensure such rail transportation was accessible and reliable, while providing a high quality service for commuters.
This new locomotive offered little comfort to the crowds of Metrorail commuters waiting for their trains, as delays of 40 minutes plagued the northern route. Metrorail (a subsidiary of PRASA) has battled with long delays and breakdowns across the region. Peters said the department and PRASA were well aware of the issues in the railway system in the Western Cape and were dealing with the situation.
She said, "When it comes to trains being delayed, many factors are to blame including cable theft. We want to enhance the situation on the railway lines and that is why government has invested R51bn for 600 new trains," she said.
In the long-term, Prasa has invested R7bn to ensure national trains' signalling system work effectively, R2.8bn of which will be spent in the Western Cape, according to PRASA chief executive Lucky Montana.
"We know that Metrorail is the transport used by 60 percent of the province's work force and we have an obligation to ensure the economy is improved through this upgrade," Montana said.
---
By Jenni McCann
Source