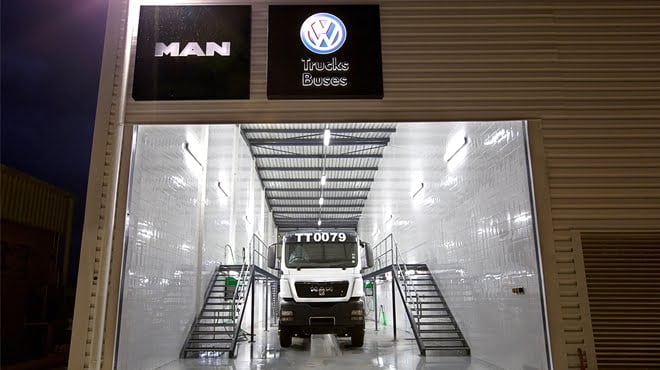 Passenger car and commercial vehicle retailer, Hatfield Group, officially opened its new, dedicated MAN truck and bus dealership situated on the N4 highway, a few kilometres east of its Hatfield dealership. The state-of-the-art heavy commercial vehicle servicing facility will significantly enhance the capacity of both the Hatfield Group and MAN Truck and Bus SA to set new benchmarks in aftersales service and customer satisfaction.
Hatfield Truck and Bus has been an independent Volkswagen Truck and Bus dealership since 2007. The dealership obtained the MAN Truck and Bus Service Partner franchise in 2009, operating out of the original facility in Hatfield, Pretoria, servicing clients in the Tshwane region. Increased demand for vehicle servicing in the region spurred the decision to build the new facility with construction work commencing in January 2013.
Situated on a 21,422m2 site with building covering 3,400m2, boasting ten fully equipped service bays; the new facility was established at a capital cost of R45m.
"MAN and Volkswagen are well known truck and bus products and there was a natural fit with Hatfield Group's retail expertise. Initially, the MAN franchise shared facilities with the Hatfield Commercial Service Centre in Hatfield itself. The customer service ratings have been at benchmark levels for some years. The decision to invest in a new large facility and expand our customer service offering was essentially driven by customer demand. Location is always critical in the world of retail. We secured the corner property in the N4 Gateway Business Park just off the Solomon Mahlangu (old Hans Strydom) off-ramp on the way to Emalahleni. This facility has easy access and awesome highway visibility," says Brad Kaftel, Managing Director, Hatfield Group.
The facility was designed to comfortably accommodate heavy commercial vehicles as well as their drivers who can stay overnight free-of-charge and enjoy a complimentary dinner in one of six bedrooms with on-suite facilities. Apart from its convenient off-highway location, the new dealership sports a large parking area, a huge turning space for trucks and trailers, on-site security as well as security within the larger industrial complex. The facility is also equipped with fully-integrated waste control and recycling facilities.
The new dealership has been in operation since April 2014, employing 22 people, including six qualified technicians and six apprentices.
The vehicle servicing department includes a large Parts warehouse, adds Kaftel. "On average, we carry R4 million worth of stock. MAN Truck and Bus SA's Parts Distribution Centre in Germiston carries significant stock levels which are always on tap for its dealers. Hatfield Truck and Bus replenishes stock with MAN on a daily basis."
Since opening the doors of its new facility to customers in April 2014, Hatfield Truck and Bus has serviced just over 700 vehicles and is focusing its business activities on "acquiring fleet and corporate service business, growing our reputation for service excellence within the truck and bus markets, building relationships with our customers, suppliers and our principal, as well as continuously up-skilling our technicians and all our administrative personnel," Kaftel explains.
Integral to the establishment of the new facility has been the involvement of MAN Truck and Bus SA's Network Development division which, says Kaftel, "brought extensive support in assisting with the design of the premises and with regard to the international MAN corporate identity standards within the facility. MAN's Network Development Programme is also effective in benchmarking key performance variables, determining facility compliance in terms of international standards, as well as bringing invaluable technical support and parts back-up and supply support to our operation."
Hatfield Truck and Bus has also secured a VW Truck and Bus Sales franchise from MAN, effective from January 2015. "Our targets for 2015 are sales of Volkswagen trucks and buses registering 100 units. We have also targeted servicing volumes of MAN and VW trucks and buses at 2,400 units for 2015, with a parts turnover of R60m," says Kaftel.
With a high-profile client-base including Digisitics, DHL, HDJ International, the South African National Defence Force and the SA Postal Services, Hatfield Truck and Bus is enjoying enhanced levels of vehicle throughput at its new premises with, according to Kaftel, "very positive client response with outstanding customer service ratings. Our customers deal directly with the service technician working on their vehicle which brings unprecedented levels of transparency, communication and immediacy to our service offering."
According to Geoff du Plessis, Managing Director of MAN Truck and Bus SA, "full commitment to customer satisfaction forms the heart of our organisation and Hatfield Group shares this ethos unequivocally. MAN and Hatfield Group appreciate the value of building enterprise capacity, both in our people and our material resources to establish viable platforms for Best Practice operations.
"MAN's independent dealerships form an integral part of its national dealer footprint and our Network Development Programme has been equipped to support entrepreneurship within our private capital dealer partners, giving them the necessary skills, technical support and marketing collateral to foster continuous improvement in customer service levels and brand equity. The capital investment that has gone into this facility is indicative of Hatfield Group's faith in the MAN and VW brands, a commitment to excellence that will be reciprocated by all of us at MAN Truck and Bus SA. "