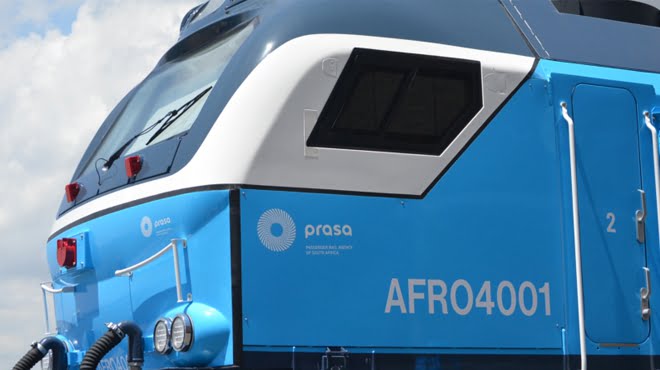 The Passenger Rail Agency of South Africa (Prasa) has dismissed media reports that its new locomotives exceed the country's rail height restrictions.
According to the article, 13 of the 70 AFRO4000 locomotives, which PRASA has so far received, have a roof height of 4264mm while the maximum height for diesel locomotives may not exceed 3965mm.
The report also said that Prasa was warned that the locomotives were too high but carried on with the contract despite warnings. According to Prasa, the media reports were grossly misleading and inaccurate.
"The new modern locomotives bought by PRASA are the best in South Africa today and they do not only meet but far exceeds the applicable technical and safety specifications. It is rather unfortunate that the misleading media report has missed critical facts around this important investment," Prasa said in a statement on Monday.
It said the claim is completely devoid of facts as the new locomotives comply with the applicable Transnet Freight Rail Electrical Safety Instructions signed by both PRASA and Transnet in 2012, as well as the Rolling Stock Electrical Safety Instructions (2000.)
"The 2012 Electrical Safety Instruction Specification supersedes all previous specifications," said Prasa.
The instruction specifies that the normal height between rail and electrical wire for 3kv and 25kv network is 5.0m and the minimum is 4.5m. The safety instruction allows for a tolerance of +150mm between the roof of the locomotive and the electrical contact wire.
According to Prasa, the AFRO4000 locomotive's height is 4.1m as opposed to 4.262m as reported.
"As a first conclusion, when the height of the AFRO4000 is taken at 4.1m and the contact wire is at a minimum height of 4.5m, the clearance between the roof of the locomotive and the contact wire is 400mm. Based on the aforementioned, it is clear that the gap of 400mm for the AFRO4000 is well above the minimum specifications."
Prasa says the AFRO4000 therefore conforms to the adopted safety standard in the South African rail environment.
"The wire distance should be maintained at 5.0m, however if it is below 4.5m, immediate corrective action is required to maintain the wire above 4.5m," said Prasa.
Prasa said they further commissioned the University of Stellenbosch which confirmed that the AFRO4000 will be able to pass safely under the minimum contact wire height of 4.5m. The new locomotives have been running in the Eastern Cape, Bloemfontein, Mafikeng, Kimberly and between Cape Town and Johannesburg.
"No technical flaws or safety issues have arisen resulting from these tests. Further, long distance and regional services routes will be tested."
Prasa reiterated that the introduction of the AFRO4000 represents a major positive step in changing the travel experience of South Africans.
"South Africans and the region will soon realise the full benefit of this investment."