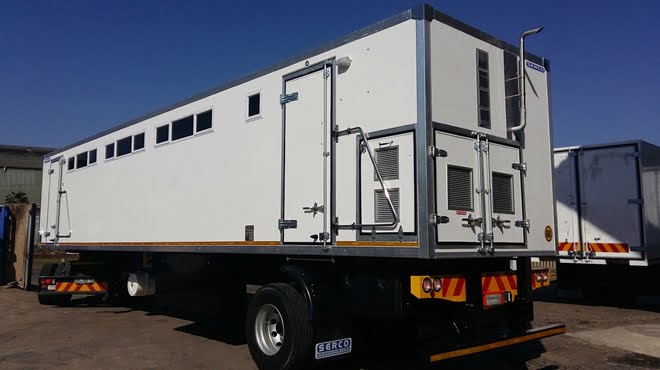 Serco has once again proven its high quality custom building capability by producing two fully-equipped trailers for use as mobile learner driver license test centres.
The 12,5m-long trailers were built for PCubed (Pty) Ltd and are currently being used in Mpumalanga to conduct learner driver license tests. The vehicles have a main examination section comprising an examiners desk and 15 workstations where applicants sit their tests, while the back section houses a registration desk, the generator and a server room.
The 12kVA generator sits in a customised compartment while the 24000BTU air-conditioning unit cools the entire interior through Serco-designed ducting.   Solar panels and UPS back-up power supports critical apparatus in the event of a power failure.
Key features developed for PCubed include a semi-insulated generator chamber with ventilation, a customised wind deflector and air-conditioning condenser protection, LED lighting and chassis and body construction to accommodate sophisticated electrical equipment and ducting.
Each workstation has an electronic interface to the server and is linked via a mobile communications system to the PCubed Support Centre, which provides for touch screens with fingerprint ID verification.
The workstations are monitored by cameras and the examiner manages and monitors the entire test through a dedicated examiner workstation.
Commenting on the quality of the trailers and the general efficiency of Serco, Managing Director of PCubed, Mr Ismail Amod, said: "Serco has built four trailers for us since we started doing business with them in 2008. "The most recent build has surpassed our expectations and is truly world class. Serco's new trailer facility and panel fabrication techniques have enhanced all aspects of the vehicle quality, making it possible for them to meet very demanding delivery deadlines."
Captions:  The exterior view of the new 12,5m trailers that were built for PCubed (Pty) Ltd to be used to conduct learner driver license tests.