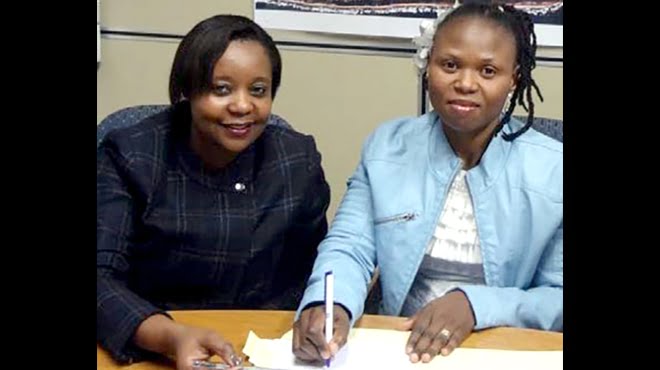 AS a new entrant in the maritime space in South Africa, it takes a combination of commitment, courage and confidence to surge through the high barriers to entry typical of a niche industry. Just ask Gcina (Bagcinele) Nzuza, who together with business partner Belinda Theunissen, started 100% black, female owned, Cape Town-based Eyabakwethu Marine Energy (Pty) Ltd earlier this year.
"For a long time we had wanted to enter the energy space, specifically through the provision of lubricants and related products to companies active in the maritime industry, but battled to gain a foothold strong enough to lift us up. With SMIT Amandla Marine's guidance, financial assistance and support through the provision of office and warehouse space, we are ready to navigate our way into the industry, and hope to graduate from an enterprise development beneficiary to a supplier in 2015," Nzuza said.
As a black empowered specialist marine solutions provider, SMIT Amandla Marine's knowledge and experience is exceedingly valuable to Enterprise Development Beneficiaries such as Eyabakwethu – for whom the technical standards, specifications and intricacies are a minefield to navigate. Pumla Makubalo, SMIT Amandla Marine's Procurement Manager – is no stranger to Enterprise Development.
"We've adopted a strategic and thorough approach to Enterprise Development, starting the process with a Needs Analysis and following through with an Enterprise Development Agreement which outlines the dual accountabilities and responsibilities of both the beneficiary and ourselves. For us, the strength of the relationship we develop will influence the success of the project – and we're personally committed to achieving project milestones."
The ultimate aim for SMIT Amandla Marine is the establishment of a diverse and sustainable supply chain, with a focus on supporting the growth of black owned small- and medium-sized enterprises through enterprise and supplier development initiatives.
In the spirit of its slogan, "Partnering for tomorrow, today," SMIT Amandla Marine is committed to creating synergy and investing time and resources into enterprises such as Eyabakwethu Marine Energy and Maritime Skills & Career Development, in line with its business strategy.
Read more in the July edition of Cape Business News