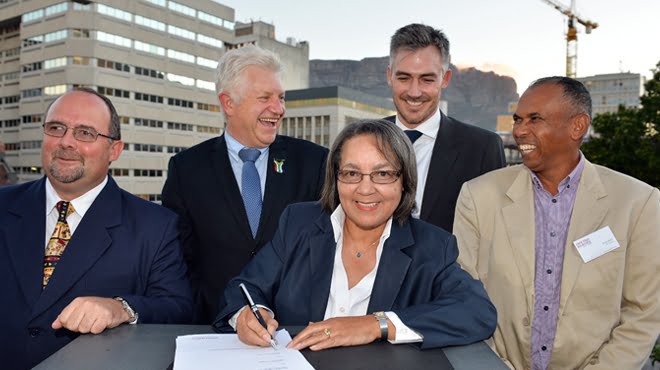 Wesgro is proud to announce the official launch of Cape Town Air Access. The launch will establish Cape Town Air Access as the focal point for international air route development in the Western Cape and signifies an impressive collaboration between the Western Cape Provincial Government, the City of Cape Town, Airports Company South Africa (ACSA), Cape Town Tourism, Wesgro and the private sector.
The primary mandate of the air access team is to promote, develop and maintain air routes in and out of Cape Town International Airport. In this way their role includes, but is not limited to:
Route retention (ensuring the success of existing routes)
Route expansion (increasing frequencies and capacity)
New route establishment (facilitating the establishment and initial feasibility of new routes)
The signing of an MOU between the public stakeholders and the presence of Minister of economic opportunities Alan Winde and Mayor Patricia De Lille as well as Deon Cloete, General Manager of the Cape Town International Airport are indicative of the level of support and shows the important role which air access plays to the growth of investment in our province.
As the Western Cape's official Tourism, Trade, and Investment Promotion Agency, Wesgro is perfectly positioned to drive this collaboration.
"The collaboration from all stakeholders has been key to the success of increasing Air Access in the province and in a very short space of time," said Wesgro CEO Tim Harris at the launch. "DEDAT have commissioned comprehensive business cases on strategic routes to prioritise development, CoCT have proactively established key relationships with international stakeholders, ACSA Cape Town continue to foster an understanding of the traveller market through data analysis and interpretation and Cape Town Tourism has played an instrumental role in connecting relevant private sector partners to lobby for route development," says Harris.
Harris believes that air access is a key lever to unlocking greater economic growth in the Western Cape as it stimulates international trade, foreign direct investment and tourism. "By targeting strategic markets via the development of key air routes we can stimulate trade and investments that will make the Western Cape an even more competitive business location," Harris said at the event.
Since its inception in 2015, the team has already experienced several successes:
Ethiopian Airlines started a six times a week direct return flight from Addis Ababa,
Turkish Airlines connects Cape Town to Istanbul on a non-stop daily connection since the end of October
KLM to increase its frequencies to a year-round daily flight from Amsterdam which increased international routes connecting Cape Town to major global hubs with strong onward connectivity to Europe, North America, Asia and India.
Confirmed for 2016 are two additional direct flights by Ethiopian Airlines on a 787-8 from 1 February
New SA Airlink flight to Maun Botswana – 5 flights a week, which starts on 11 March
Additional capacity on the London connection as Thomas Cook will operate 3 direct flights from Gatwick to Cape Town with an Airbus 330 in the next summer season
Furthermore, the team is focused on developing the business cases and negotiating with airlines for non-stop routes to the USA, Asia and a number of strategic destinations in the rest of Africa with some earmarked to be announced to take off in the next few months.