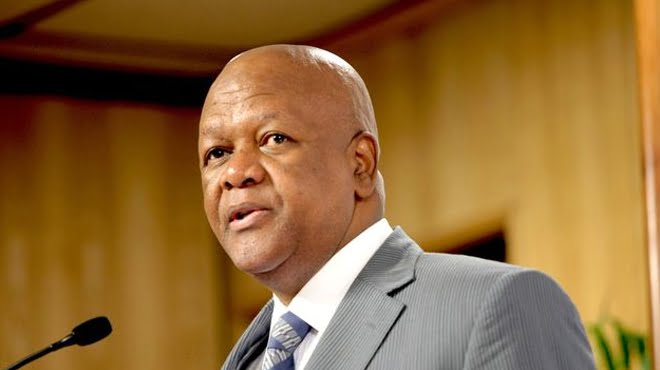 According to Bloomberg South Africa's government is confident that its partnerships with business and labor can help it avert a credit-rating downgrade to junk, according to Jeff Radebe, Minister for Planning, Performance, Monitoring & Evaluation in the Presidency.
"We are not envisaging a downgrade because we have put in measures as a government working with our partners in the private sector and labor to ensure that we stay the course," Rabede told reporters at Bloomberg's office in Johannesburg on Monday. "There have been genuine fears that we could fall into junk status, those fears still exist even now, despite having safely crossed the Moody's bridge."
Moody's Investors Service affirmed the continent's most-industrialized economy's credit rating at Baa2, two levels above junk, on May 6 and kept its outlook on the rating on negative. South Africa "is likely approaching a turning point after several years of falling growth," with the budget and government plans likely to stabilize and eventually reduce state debt metrics, the company said. Moody's put South Africa's assessment onreview for a downgrade in March, citing concerns about growth prospects and fiscal strength.
 S&P Global Ratings and Fitch, which both have South Africa one level above junk, will assess the country over the next two weeks, Finance Minister Pravin Gordhan told reporters in Johannesburg at a separate event on Monday. S&P will lower the nation's rating to non-investment grade by the end of this year, according to 12 of 13 economists and analysts surveyed by Bloomberg. Four see the downgrade to BB+, which will put South Africa on par with Turkey and Indonesia, coming as early as next month. Only four of the 13 said Fitch will lower its assessment by the end of the year.
Task Team
Gordhan, 67, met with business leaders in February and with investors in the U.K. and the U.S. in March in an effort to help mitigate the country's risk of losing its investment-grade status. President Jacob Zuma established a task team of government, business and labor representatives in February to explore ways of responding to slower economic growth and will receive a report back from the team at the Union Buildings in the capital, Pretoria, on Monday.
"The important achievement over the last couple of months is that we developed a common intent between labor, business and government that we don't want to be downgraded," Gordhan said. 
"We will look at the progress over the last few months that cooperation between these three social partners has brought and then the president will make some announcements."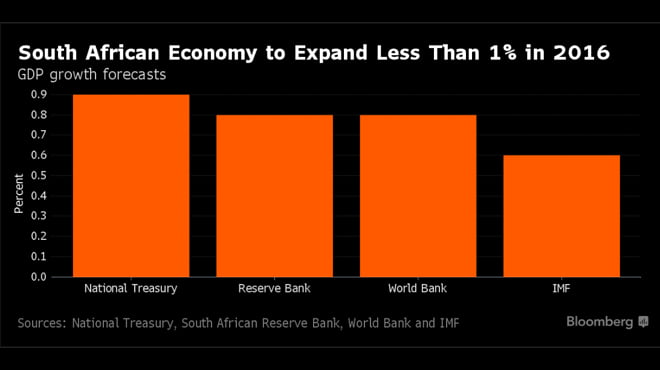 Both the National Treasury and South African Reserve Bank forecast the economy will expand less than 1% this year, the slowest pace since 2009, as depressed commodity prices and low demand from major export markets weigh on output. Lackluster growth will limit tax revenue and make it more difficult for the Treasury to meet its target of reducing the budget deficit to 2.4% of gross domestic product in the year through March 2019, from 3,9% last year, and limit gross debt to about 50 percent of GDP.
"If we continue to work together as has been the case in the recent times, we will avert any looming credit downgrade and bring our economy back on on its two feet," Radebe said. "Losing our investment-grade status is something that our government will do its best to avert. "
---
Source