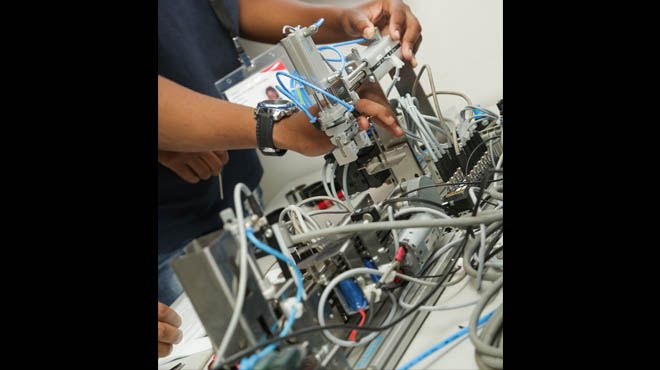 The WorldSkills SA (WSSA) National Competition took place at the Cape Town International Convention Centre (CTICC) between 28 January and 01 February 2015.
Participants competed in various skills areas from various sectors, ranging from Manufacturing Technology, Social and Professional Services to IT and Business Administration. Winners stand a chance of participating in the international competition in Sao Paulo, Brazil later this year. 
WorldSkills is a global organisation that promotes vocational, technological and service oriented education and training.
Festo is a proud global sponsor of WorldSkills International and a partner of the Worldskills competition that was held in Cape Town over the weekend. As part of WorldSkills 2014 held at the CTICC, Festo demonstrated three skills – Mechatronics, Mobile Robotics and a new skill, Aquatronics – as part of the try-a-skills programme.
"Our Mechatronics DJ robots, Mobile Robotics Robotino and Aquatronics water rig were on display and attendees were able to engage with them. The purpose of try-a-skill is to interest young people in choosing engineering as a career – that is why the competition was open to the public for three days and such a large number of schools visited," explains Daniel Gauch, who is part of the Product Management Group from Festo Didactic GmbH & Co KG. He is in South Africa to promote the Aquatronics skills and participated in the conference part of the WorldSkills agenda.  
Aquatronics is a new skill globally. It was showcased as a demonstrator skill at WorldSkills in Leipzig in 2013. "The skill is based on the EDS® training rig developed through the GIZ and Festo Didactic here in South Africa. This new discipline will contribute to promoting vocational training and education in a field that presents major challenges around the world: the provision of a stable and sustainable water supply," continues Gauch. "To be able to showcase this ambitious new skill in South Africa is very exciting and ties in with the innovation and promotion of new skills that WorldSkills seeks to foster."
Each skill that competes at WorldSkills has an allocated expert from each country that is responsible for mentoring and coaching the national teams that compete at the international competition and they also form part of the judging panel at the international competition. Festo's experts at WorldSkills Cape Town were Gauch, Chris Oliver: WorldSkills SA Expert for Mobile Robotics and David Setlhake: WorldSkills SA Expert for Mechatronics. This was Oliver's 3rd WorldSkills Competition and both he and Setlhake will be accompanying the winning team from these Nationals to Sao Paulo.
"The competition was a great success and everyone brought their A-game. It is incredibly encouraging to see the vast amount of talent South Africa has to offer. The winners will be announced at a later date and we look forward to seeing who will be going to Brazil to represent South Africa," concludes Gauch.
Gauch spoke on An industry Perspective on Friday, 30 January 2015, highlighting the impact of WorldSkills on improving the level of vocational education, updating curricula and making them more industry-relevant; improving the employability of technical graduates and the global competitiveness of industries.