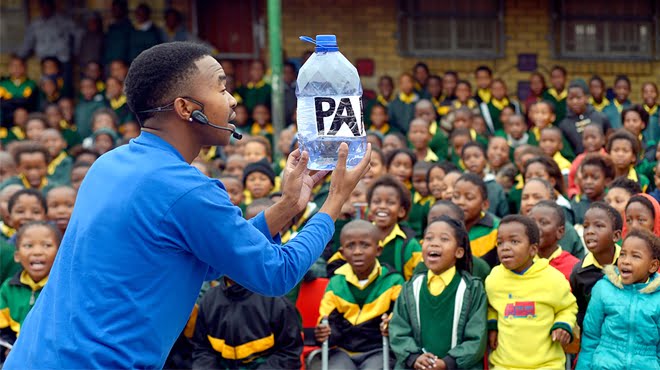 Engen KlevaKidz, a national campaign that educates rural and township communities about safe handling and storage of paraffin, will run in the Western Cape throughout June this year.
From 8 to 25 June 2015, the travelling educational stage drama will visit 20 schools in disadvantaged communities, where household use of paraffin is widespread and paraffin-related accidents are common. These include (but aren't limited to) Tafelsig, Macassar, Philippi, Khayelitsha and Nyanga.
Engen KlevaKidz was launched 2008, and has grown rapidly over the years.  By the end of 2014 the campaign had reached 139,643 learners in 391 schools. This year, the campaign is set to visit 100 new schools across the country.
 "As the name suggests, the KlevaKidz campaign delivers its empowering safety message through edutainment, including what to do in an emergency," says Tasneem Sulaiman-Bray, Engen's General Manager, Corporate Affairs.
"Over the years of Engen's involvement in paraffin safety we have become aware that children aged eight to 13 are often the primary daytime caregivers of their younger brothers and sisters. It is with this in mind that we target them with the message of safety," says Engen Corporate Social Investment Manager, Mntu Nduvane.
The KlevaKidz production takes the form of an interactive educational stage drama that raises awareness of the dangers associated with handling and storing paraffin and how to prevent accidents from taking place. The production uses a television quiz show format as a vehicle for relaying the message, which is combined with a catchy jingle.
"We have found edutainment to be a powerful medium to stimulate children's imagination. What is even more rewarding is to hear children of four years old still singing the paraffin safety jingle afterwards," says Nduvane.
Research commissioned by Engen in 2011, which benchmarked the before and after of the first KlevaKidz campaign, illustrated that awareness improved from 24% to 90% and changed the behaviour of more than 80% of participants.
"It is heartening to see such an important message becoming so entrenched," says Sulaiman-Bray.
Read more in the July edition of Cape Business News