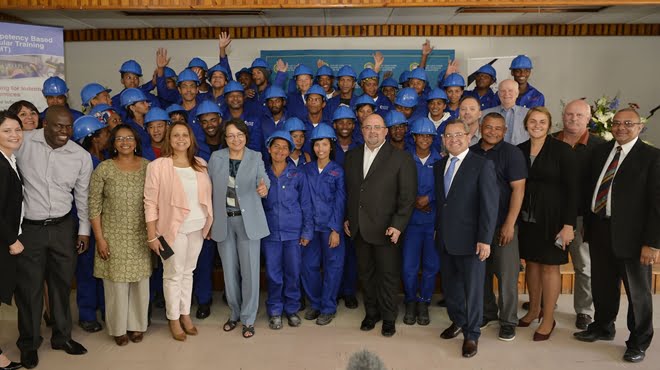 Today the City of Cape Town, Airports Company of South Africa (ACSA) and the False Bay Technical and Vocational Education and Training (TVET) College were delighted to launch a multi-million rand skills development programme for 91 residents from Blikkiesdorp who will receive construction industry training at False Bay TVET College in Westlake.
ACSA initiated this project to train residents from Blikkiesdorp who have been enrolled for various courses including a National Certificate in Community House Building and Modular Training in Bricklaying. The courses' duration ranges between 3 and 12 months.
The first set of eager recruits from Blikkiesdorp started their training at the False Bay Westlake campus yesterday, 27 September 2017.
Blikkiesdorp residents were invited to apply for the skills training opportunities and had to complete various assessments such as a career interest assessment, language and maths assessment, a practical assessment and a personal interview for enrolment in the various courses.
This project is a wonderful example of the City of Cape Town's commitments in our Organisational Development and Transformation Plan (ODTP) to strive for excellence in service delivery, to leverage partnerships for progress and enable greater economic inclusion.
With these training opportunities and the qualifications residents will receive, they will be empowered and improve their chances of finding work opportunities, become active participants in our economy and earn an income for their families.
These benefits are in line with the objectives of the City's Economic and Social Development strategies to provide residents with opportunities that will alleviate poverty through skills training and job creation.
The first group of 42 recruits from Blikkiesdorp started their training yesterday and the remainder of the recruits who are enrolled for the National certificate in Community House Building will start at various stages in 2018.
The 12 month programme for the National Certificate in Community Housebuilding will see recruits participate in six months of theory and practical lessons at the college and six months' work place training.
For the 30-week Modular Training in Bricklaying, recruits will embark on three levels of training.
In the three months' Skills programme, recruits will learn masonry skills (bricklaying), including scaffolding and health and safety education. 
A key partner in this initiative, ACSA has invested R5million in this multi million rand skills project.
As an equally important partner and as part of its strategy to expand access to unemployed youth, the False Bay TVET College applied to the Construction SETA (CETA) for funding to support training in the Civil and Construction trades. The CETA awarded a grant of more than R6 million to the College of which a considerable portion is dedicated to the Blikkiesdorp Community's training.
The City of Cape Town through the Mayor's Job Creation Fund has committed a further R300 000 while the City's Transport and Urban Development Authority's Training Academy committed an additional R750 000 towards the project to fund the Skills GAP Programme for 25 residents for their Recognition of Prior Learning Certificates.
The City is unlocking its part in this programme with this initial investment but will look to increase the commitment as we explore the extension of the Skills Gap programme to two other areas adjacent to the Cape Town International Airport.
The City and ACSA have signed a Memorandum of Agreement and have been engaging with residents from Blikkiesdorp, Malawi Camp and Freedom Farm about the housing development to accommodate these communities as ACSA prepares for runway realignment and expansion to cater for an increase in traffic to the airport.
The housing development is currently in the planning & design phase which will be followed by the implementation phase for the construction of housing opportunities for the three beneficiary communities.
The planning and design phase will inform what type of housing will be built.
Once residents obtain their skills training qualifications they will be involved in the construction of their own housing opportunities.   
"The City of Cape Town is truly proud of this initiative which will empower so many residents. I am especially proud of the fact that 43 out of the 91 recruits are women from Blikkiesdorp who have enrolled in the courses. I commend and thank ACSA and the False Bay TVET College for their investment and commitment to partnering with the City for progress and to empower residents who need our help most." Mayor de Lille said.
ACSA general manager, Deon Cloete said: "This is a programme that we are especially proud of as it provides the opportunity for people to be skilled hence making them employable.  It enables the community to build their own homes, by the community, for the community. The bigger picture is that individuals on the programme, demonstrating potential will be further developed as entrepreneurs, enabling small business development and a vehicle of future employment for others. We take this opportunity to thank the community leaders, for their commitment and perseverance over many months to bring this project to fruition and most importantly we thank our partners False Bay College for their partnership in getting the co-funding enabled as well as the City of Cape Town for the significant role that they're playing in empowering the community."
CEO and Principal of False Bay TVET College Mr Cassie Kruger said: "False Bay College believes that a successful TVET College will have as its foundation, partnerships with industry and the public sector. This exciting training initiative will empower and provide employment and self-employment opportunities for the Blikkiesdorp community. Public-private partnership initiatives of this nature can play a significant role in the alleviation of poverty and community upliftment".
We wish the Blikkiesdorp students well for their training and look forward to working with them and our partners so that we can continue making progress possible, together.