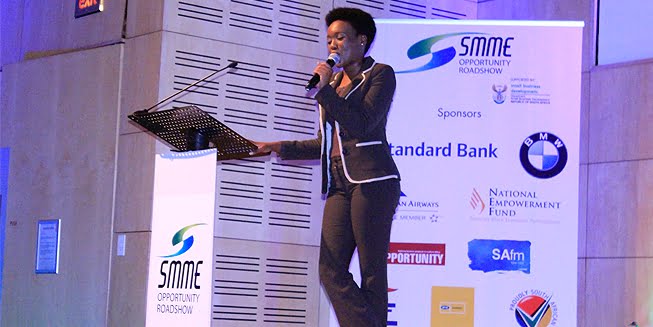 Cape Town recently hosted the last of four SMME Opportunity Roadshows for the year. Kicking off in Johannesburg, the Roadshow moved to Port Elizabeth and Durban, before making its final stop in the Mother City. This tetrad saw positive partnerships between financial institutions, public entities and SMMEs and was by all accounts a highly successful series of events.
Employment opportunities are a growing concern for every city and sustaining employment is an even bigger concern. As an example, Cape Town was one of the host cities during the 2010 Soccer World Cup, with around 364 new jobs created, 80% of them within in the Cape Metropole*. The question now is – how many of these jobs are still active? Have there been further opportunities created since then? 
"Some 91% of formal business entities in South Africa are SMMEs, contributing between 52% and 57% to the country's GDP, and about 61% to employment. As big companies shed jobs, it is up to SMMEs to safeguard the economy. In fact, the National Development Plan (NDP) intends that 90% of employment opportunities will be created by SMMEs by 2030,"  shares Greg Penfold, head of Events Division at Cape Media. Penfolds adds that these staggering statistics motivated the development of the SMME Opportunity Roadshow.
Supported by the Department of Small Business Development, the intention of the SMME Opportunity Roadshow was to showcase opportunities under the umbrella of the South African National Infrastructure Plan (SANIP,) as well as to provide focused guidance for SMMEs to mainstream their competitive advantage as effectively as possible. 
As part of the value add, SMMEs at the Roadshow were taken through four master classes. These were on financial management, human resources (HR,) information and communications technology (ICT,) and sales and marketing. "Engaging small business owners on the pivotal role that financial institutions play in assisting businesses assists SMMEs to position themselves advantageously in the value chain of any project," says Ethel Nyembe, Head of Small Enterprise at Standard Bank. Ms Nyembe adds that finance is the heartbeat of every organisation, followed by human capital and capability. She firmly believes that aligning these crucial business functions will reduce the tremendous small business failure rate South Africa is currently faced with. 
The SMME Opportunity Roadshow event revealed the many challenges that face SMMEs in different industries and locations. All four Roadshows elicited heated debates around local development and empowerment, township economy, small business funding and the role Government plays in improving the state of SMMEs. 
The all-day event was packed with information, advice, ideas, strategies and of course, networking opportunities with key players from every economic sector. After a productive and informative day, delegates took advantage of yet another wonderful networking opportunity with celebratory cocktails.
According to Greg Penfold, entrepreneurs responded very positively to the Roadshow and Cape Media are considering hosting similar events in 2016. "Thank you so much to everyone who participated, in particular our speakers and sponsors, who were available to share insights on their different functions and the services available for small businesses in South Africa" concludes Penfold.