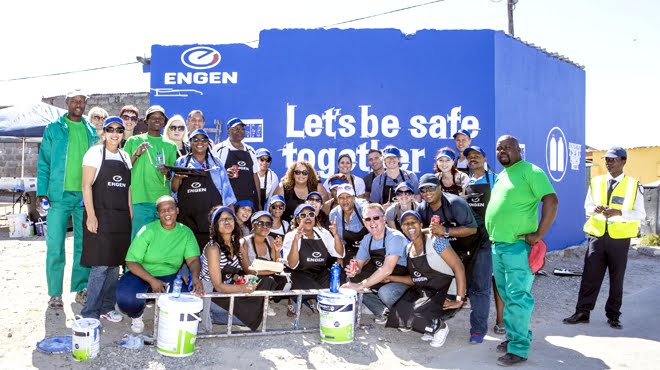 On 15 March 2016 a team of 20 people from Engen's Corporate Affairs division and affiliated agencies – Magna Carta, PHD and Posterscope – collaborated to transform the Freedom No. 2 Tuck Shop in Nyanga, Cape Town.
With paint and purpose, the idea was to focus a team building initiative around the company's KlevaKidz paraffin education and safety campaign. Leveraging the footprint of Klevakidz, the branding of Spaza Shops reinforces key paraffin safety messages in high-visibility areas.
Across the country in Gauteng, the Western Cape and the Eastern Cape, the Engen-blue signature colours are easily identifiable on more than 30 Spaza Shops articulating key messages to ensure that the safe storage, cooking and labelling of paraffin products are highlighted. In the absence of adult supervision, it is children who often shop, cook and oversee the household duties in under-privileged communities. It is these youngsters who are particularly vulnerable to the dangers of handling paraffin incorrectly.
"We feel it is our duty to reinforce the message at every turn. The safety of our customers and communities comes first for Engen. As the largest distributor of paraffin to communities across South Africa and Lesotho, the safe use of paraffin is of particular importance to us," says Tasneem Sulaiman-Bray, Engen's Corporate Affairs General Manager.
Engen's Spaza Shop campaign targets stores that are well established and optimally located within these communities to offer good communication visibility. Negotiation and contracts with store owners initiate the process. Following this, standardised templates ensure consistent branding and key messaging throughout the country.
Engen is a leading producer and marketer of fuels, lubricants and oil-based products. The company's KlevaKidz campaign uses industrial theatre to inform and educate children about the safe handling and storage of paraffin. Launched in 2008, the initiative has reached more than 79,000 learners in 190 schools located in areas where the household use of paraffin is widespread. From 2013 to 2016 the campaign is set to reach 90,000 learners aged 9 – 13 in 300 schools.