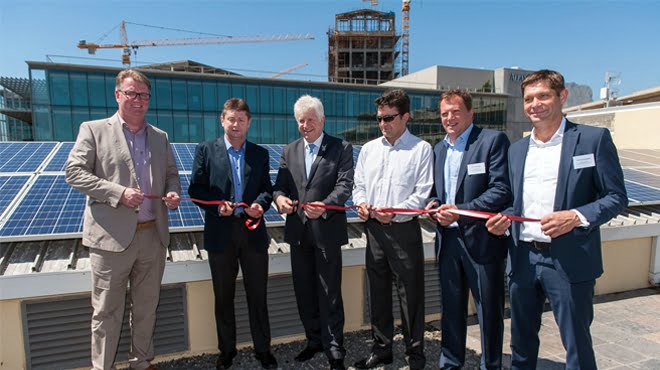 Sustainable Power Solutions with its partners, SolarWorld Africa, SMA Solar Technology South Africa and Schletter South Africa, have installed a rooftop solar system at Cape Town's V&A Waterfront.
Provincial Minister of Economic Opportunities Alan Winde officially switched on the landmark 7500 square metre rooftop solar electricity system in Cape Town today, effectively commencing the powering of several key buildings on the iconic property with an estimated total output of 1,640,000kWh of clean energy per year. At present, 900kW have been successfully connected to the grid on six roofs. 
Provincial Minister of Economic Opportunities Alan Winde said the project underscored the focus on the Western Cape's green economy and renewable energy sector, as well as the competitive advantages the Province holds for potential investors.
"In the Western Cape, we have set ourselves the goal of becoming the greenest region in South Africa. Securing reliable, affordable energy is a key focus area for the Western Cape Government. In fact, it is one of our game-changers and is being driven by a special unit in the Premier's office. At municipal level, we're looking at including solar PV as part of the energy mix," said MEC Winde.
The V&A Waterfront solar system consists of 4207 SolarWorld SunModule Plus SW260 Poly PV modules and FLX and Sunny Tripower inverters from SMA Solar Technology with a total output of solar electricity of 1093.8kWp and will reduce 1610 tonnes of carbon emissions per year. The average daily production of this system will be 4495kWh which is the energy needed to supply one day's worth of electricity to 310 average-sized households.
The three month installation process was concluded earlier this month by Sustainable Power Solutions and its partners SolarWorld Africa, SMA Solar Technology South Africa and Schletter South Africa. 
Axel Scholle, Managing Director of Sustainable Power Solutions, says the project was completed with no delays and within budget.
"A key to our success was the speed of installation. Within three months we had 900kW installed on several roofs in spite of the challenges associated with a busy tourist attraction such as the V&A Waterfront. The solar system contributes a significant amount of solar electricity to the V&A Waterfront's own power usage depending on which building the solar panels are located. The typical contribution from the various solar plants to each of the building's electricity consumption ranges between 7% and 24%," says Scholle.
SolarWorld Africa Managing Director, Gregor Küpper, says, "We congratulate the V&A Waterfront for their commitment to real value. Our 30 year of presence in Africa and 40 years in the solar manufacturing industry globally, continuously prove that quality manufacturing and technology leadership are what best practice leaders such as the V&A Waterfront are seeking. This is an important day for SolarWorld and a key success for this commercial solar electricity solution, which works in conjunction with the grid, in so-called embedded generation. We trust this project will serve as a leading example and motivation for other businesses."
MEC Winde told industry members and media that he was encouraged by partners in the private sector who have committed themselves to walking this road with the Western Cape Government.
"I want to commend the V&A Waterfront, Sustainable Power Solutions and SolarWorld Africa for this initiative, which is one of the largest-scale in the country. We now have one of South Africa's biggest landmarks, an icon which has contributed over R200m to the national economy, as an ambassador for smart energy practices. You have helped us set the benchmark and it's one I hope others in the private sector will follow. While we know that operating this way is the right thing to do, we realise that more businesses are also choosing green energy because it makes business sense," added MEC Winde.
SMA Solar Technology South Africa, who opened a state-of-the-art manufacturing and training facility in Cape Town end of last year and are supplying utility scale solar inverters into the Renewable Energy Independent Power Producers Programme (REIPPP,) provided the solar inverter technology required for the solar system.
Thorsten Ronge, Managing Director of SMA Solar Technology SA, says this particular project required a specific decentralised solution.
"Since the installation was done on a variety of roofs across different buildings, we needed to supply a range of solar inverters from our commercial rooftop portfolio – namely FLX 15, FLX 17 and Sunny Tripower 60 inverters. Especially the STP-60 in conjunction with the system's inverter manager, is the product of choice for larger rooftop installations. The V&A Waterfront's decision for quality grid-tie inverters from the market leader SMA underpins that reliability is a key factor for an investment like this," says Ronge.
The V&A Waterfront's Executive Manager of Operations, Colin Devenish stated, "This project exemplifies what is possible for integrated, clean energy in high-usage properties, falling in line with our remit to deliver world-class standards that can be measured against responsible business practices. Most importantly, it is about long-term energy saving and sustainable electricity generation that is going to work for 25-30 years. 1.4 MW is planned for this first phase and the overall project is scheduled for completion by early 2016."
SolarWorld solar panels and SMA inverters have been installed on the roofs of the Watershed, the Breakwater Apartment, the Clock Tower, Granger Bay, Two Oceans Aquarium and Ports Edge.